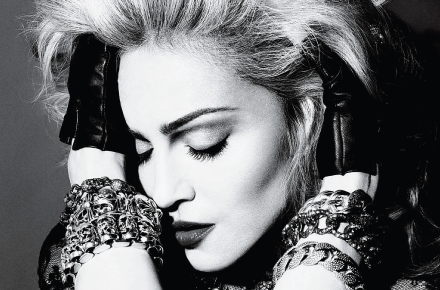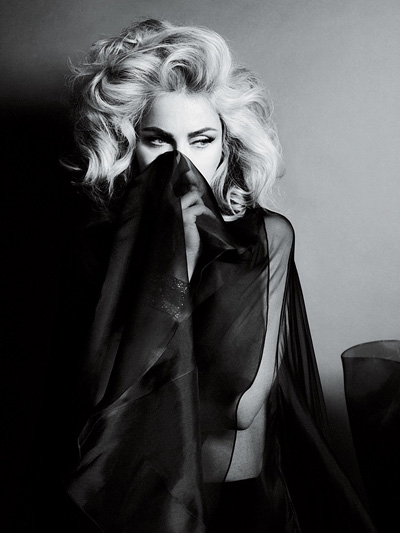 Totally Tyler, blogger and writer of the book Your Boyfriend & Other Guys I've Kissed provided a timely excerpt from his book on the one and only Madonna. On March 26, 2012, Madonna will be releasing her 12th studio album MDNA. Tyler recounts and explores his relationship with the pop icon's music through the years and reflects on the impact it's had on him.
ONE IS SUCH A LONELY NUMBER
Whenever my life gets crazy and whenever I am troubled, there is one woman I can always turn to for advice and help. She does not realize that she is such an influential force in my life and that I have greatly benefited from her words, her laughter, and even her hardships. She may never know that she has nurtured me through my darkest hours and has taught me that I am a resilient human being. This woman is not my shrink. She is not my mother. We are not even related. In fact, she doesn't even know I am alive.
This woman is Madonna.
As with most gay men, when I was younger, I knew I was different. I often felt like the outcast, and being an only child until I was nine, I was a loner. With the exception of a neighborhood girl who let me position her Barbie and Ken dolls in sexual poses on Barbie's inflatable furniture, I had few friends. I was always last to be picked when choosing teams for the gym class dodge ball game. "Tyler appears to be afraid of the ball," read my first grade report card. I was a timid boy with eager fantasies of being Princess Leia, Wonder Woman, or that perky, red-headed cheerleader who got to kiss Josh Brolin in The Goonies.
In the backyard, I shoved four milk crates together, slapped a large piece of plywood on top, and danced around on my makeshift stage to Olivia Newton-John songs. After her Physical album, her career gradually lost steam and I gradually lost interest. Then, in 1984, I fell in love with a song called "Borderline." My stereo was beat and worn. The record and play buttons on the tape deck were broken and I had to jab scissors into the slots and mash them down to record from the radio. What gave me the notion to stick metal scissors into the guts of a large electrical device was beyond me. I didn't care. Music was my passion. I knew it and so did my parents.
As punishments, my parents grounded me from my stereo. Once, dad unplugged, removed, and boxed up my stereo, storing it in a closet. I felt like I had lost a limb. Casey Kasem had just introduced me to Madonna. I wanted to spend my Saturday afternoon listening to all four hours of America's Top Forty, eagerly anticipating my chance to record "Lucky Star."
When "Like a Virgin" swept the nation, securing Madonna's position as a pop icon, I was beginning to spend less time in front of my stereo and more time watching television. I rushed home from school every day to watch the half-hour music video shows, hoping to catch a glimpse of Madonna in all her crazy and spunky glory. She would get occasional airtime between Culture Club and Men at Work, baring her belly button amid the rubber bracelets and fishnet tops. Imitating her dance moves, I wore a basketball goal net as a skirt and the zip-off sleeves of my Michael Jackson "Beat It" jacket were my leg warmers.
The first cassette tape I ever purchased with my own money was Madonna's True Blue album. By then, I had a small Walkman knock-off. Its only feature was an AM/FM radio with poor reception. I lay in bed at night and listened to "Open Your Heart," holding my radio in the air for the full four minutes and thirteen seconds of the song in hopes to increase reception quality. After the True Blue album, I became a fully committed Madonna fan. "Papa Don't Preach" spoke to my inner drama queen, while "Live To Tell" was the perfect song for a young boy riddled with secrets and melancholy.
BEAUTY IS WHERE YOU FIND IT, NOT JUST WHERE YOU BUMP AND GRIND IT
In 1989, Madonna released her Like a Prayer album, raising controversial questions about religious ecstasy and sexual ecstasy and whether the two were meant to coexist within the same sentence. (They just did, by the way.) It was around this time that I was beginning to question my Mormon upbringing. I questioned if I had a testimony in my religion or if it was simply taught to me like I was taught to eat with a fork. What's more, I found it increasingly difficult to attend services of a church that believes homosexuality is the worst sin, second only to murder. I began to secretly doubt everything about my religion when I realized that a homosexual could be judged just as harshly as a murderer. Since when did making love equate to killing someone?
Because of my religious confusion and my fear of my parent's disapproval, I chose to stay in the closet. In hindsight, my being gay was obvious. What other guys were photographed voguing for the yearbook? What other teenage boys took their high school sweetheart to see Madonna's Truth or Dare? The latter was actually a double date with Allen and his girlfriend. Allen was in the closet, too. Bettina, my high school sweetheart, stormed out of the theatre midway through the film, after the Like a Virgin masturbation scene. She was disgusted that I idolized such a "depraved slut." Ironically, I later discovered she was blowing half the young men in her Baptist bible study. Allen and I returned to Indianapolis for second and third viewings of Truth or Dare, leaving the "wives" back in Connersville. On the way home, much to the confusion of the gawking truckers passing us on the interstate, we practiced fellatio on Mountain Dew bottles.
WHAT MY MOMMA TOLD ME, LET MY FATHER MOLD ME
In 1992, Madonna's Erotica album came out and so did I. It was the perfect "coming out" album. Songs like "Erotica," "Bye Bye Baby," and "Fever" had a tough, fun dance floor sensibility, while "Rain" and "Deeper and Deeper" revealed a never-ending yearning for love and acceptance. I began sneaking into The Coachman, the only gay bar within two hours of home. It was a small bar in Richmond with a tiny dance floor. The DJ played a lengthy Madonna mega mix, and I gyrated among the Quaker college students and the beer-bellied old men. Allen and I skipped our classes at I.U. East to camp outside the Waldenbooks for our copies of the Sex book. With the Erotica album playing in the tape deck, we sat in the Richmond Square Mall parking lot pouring over every page.
My mother found my Sex book in my closet while snooping. Her focus fell on the nudity and she missed the message of the book. My parents also knew I was going to gay bars and the Homeland Security "Is My Son Gay?" Threat Alert System went from code orange to code red. I eventually came out and my parents told me that I could not live under their roof. My mother cried and said she would rather me be a drug dealer or murderer. This was coupled with the alienation I felt from the Mormon Church when I declined to serve as a missionary for two years. I felt rebellious, lonely, and afraid, but for the first time in my life, I felt like myself.
HAPPINESS LIES IN YOUR OWN HANDS
After a couple of years exploring my new found sexuality and getting banned from the I.U. East newspaper for writing naughty Madonna-inspired poetry, I was ready for a romance. I started dating Phillip, a fledgling fashion design student at a prestigious art school. I eventually moved to Savannah, Georgia, to live with Phillip. The morning I left, my dad wept. I realized that although I resented my parents for judging me and forcing me from their home, their approval meant the world to me.
In 1994, Madonna was on the backside of a furious media fervor caused by the overtly sexual Erotica album and Sex book. Madonna lashed back at the backlash by releasing the Bedtime Stories album. With lush R&B arrangements, this was one of Madonna's most personal albums, revealing a lonely and heartbreaking vulnerability with songs like "Love Tried to Welcome Me," "Inside of Me," and "Take A Bow." There were also sentiments of renewal with "Secret." Madonna responded to her detractors with the slightly defensive "Survival" and the less subtle "Human Nature." As a young gay man, this album provided the perfect soundtrack for that stage of my life. When things between Phillip and me went sour, this album taught me to embrace my mistakes and to have "absolutely no regrets."
THIS IS MY RELIGION
In the subsequent years that followed, Madonna's music continued to mirror the happenings in my life and I considered it no coincidence. In 1998, Madonna released Ray of Light, an album about new beginnings and I relocated to Atlanta in hopes of a new beginning. "The Power of Good-Bye" became my favorite break-up song, while "Ray of Light" and "Nothing Really Matters" kept me dancing, but more importantly, thinking.
Madonna's personal life became an influence as well. I named my dog Lola, after Madonna's firstborn, and I started to dabble in the kabbalah. When the Music album was released, my favorite accessory was a cowboy hat and I listened to music and read books that Madonna cited as her inspirations.
Allen is still one of my closest friends and every year, we celebrate Madonnica, a holiday celebrating Madonna's birthday, on which we exchange Madonna rarities purchased through eBay. After I nearly destroyed my friendship with Chad by getting him fired from Blockbuster Video, it was Chad who made the first move towards reconciliation by calling me to discuss the finer points of "Beautiful Stranger." Madonna's music really does make people come together.
You'd think I'd outgrow following her career so intensely, but the more music Madonna creates, the more I relate and the more insight I gain. Every time Madonna releases an album, I partake of the same rituals. The night before, I am the first in line at Tower Records, waiting to buy the CD at the stroke of midnight. I rush home to listen to it, pouring over the CD booklet, following the lyrics of each song. I call both Allen and Chad to share my thoughts and listen to theirs. I have the same giddy excitement that I once expressed as a ten-year-old waiting by the radio, scissors in hand, for the chance to record "Into the Groove." And as I listen to her new songs, I feel "like a virgin, touched for the very first time."
Totally Tyler will be reading from his book Your Boyfriend & Other Guys I've Kissed in NYC on Wednesday, March 14th at Bluestockings and in Atlanta at Mixx on March 22. Check out his website www.totallytyler.com for more information.