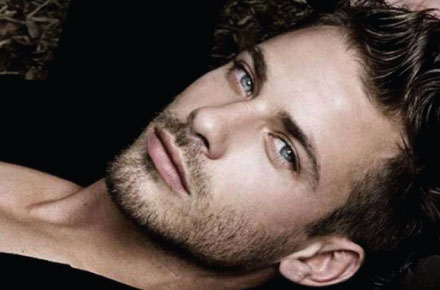 The ridiculously good looking Andrew Stetson has lived a life of a Desperate Housewives character–he didn't become a model until he was 33. Before he got into modeling  he was a carpenter. Seriously. This hot guy with abs and muscles worked with WOOD for a living. Forget Desperate Housewives, Andrew has lived out the plot of many porn movies. A year after modeling and traveling to places like New York and Europe, he put aside his modeling career and started his own home renovation business. His friends and family encouraged him to get back to modeling and since then he's appeared in campaigns for H&M, Chanel, Dolce & Gabbana, Levis, Calvin Klein, Bloomingdales and Zara. In 2006 he signed on to be the face of Calvin Klein's fragrance Euphoria.
As for stats, Andrew is a dirty blond, 6'1″ tall, blue eyes and wears a size eleven shoe. Yes, I have a bit of a fascination with model's shoe sizes. Sue me! Check out some of Andrew's hottest shots below including some photos from his editorial in French magazine Têtu.
Follow The Man Crush Blog on Twitter | Facebook | Tumblr
Click on thumbnails to view larger images.