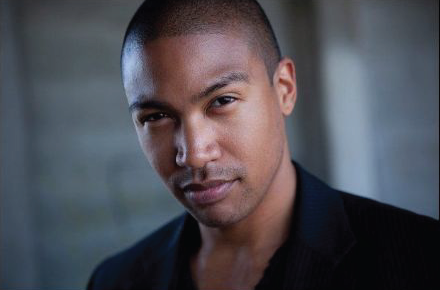 If you've been watching The Game on BET this season then perhaps you've been a bit bored by the plot that seems a bit flat after the show's big return last season but there is one saving grace–actor Charles Michael Davis. Charles plays Kwan Kirkland, the new "It" boy on the Sabres' team. Now, I was rather infatuated by him when he first showed up on the show simply because he's got awesome cheekbone structure and a smoothness to him that just makes you shiver with glee. Then there's been more than a few scenes of him shirtless and that's when I was a fan. Abs, muscles, a tight body. Oh yes. Kwan, or better yet Charles, could touchdown in my endzone anytime.
Charles appeared in the show Switched at Birth before appearing on The Game. He's done tons of commercial work for companies including Nike, New Balance, Foot Locker, Wells Fargo and has appeared in print ads for Verizon Wireless, E! Entertainment, Nokia and Coors Light. I think it's safe to say Charles' good looks and talent will take him far in the industry.
You can follow Charles on Twitter @CharlesMD and visit his website www.charlesmichaeldavis.com.
Follow The Man Crush Blog on Twitter | Facebook | Tumblr
Click on thumbnails to view larger images.