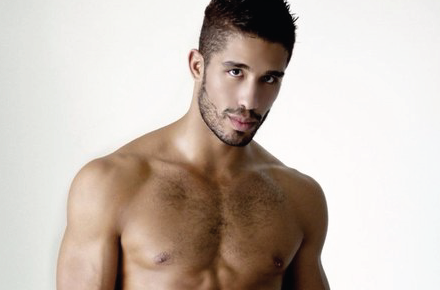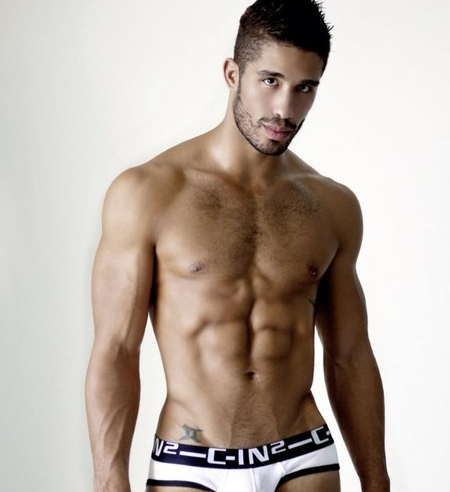 Back in December 2011 porn model and actor Trey Turner was one of the featured crushes on the blog (view his original feature here). In January he went up for one of the five Man Crush of the Month choices and managed to come in second place.  There's definitely a sex appeal and something alluring that sets Trey apart and makes him one of porn's most interesting models. In the interview I discovered that Trey is far more than a pretty face and hard body–we talk about everything from his relationship with fellow porn actor Jessie Colter to the role race plays in porn today.
Man Crush: Here's an interesting way to start an interview–what's your least favorite question that you get asked all the time?
Trey Turner: Least favorite question would be " If my relationship with Jessie is real?" yes it is. I love my boyfriend
Man Crush: What male celebrity has Jessie given you a pass to do as you wish with should you be given the opportunity?
Trey Turner: We have never discussed that but Alexander Skarsgård from True Blood is sexy as hell. But Jessie has everything I could ever want.
Man Crush: What's a strange or unusual talent you have that few know about?
Trey Turner: I have really stretchy skin all over my body.
Man Crush: Who run the world–tops or bottoms?
Trey Turner: Neither! Versatile men run it, because you get the best of both worlds and can be pleased no matter what.
Man Crush: What song do you listen to that gets you in the mood?
Trey Turner: If I'm horny anything can get me in the mood. Anything from the great Barry White to the famous Lady GaGa.
ABOUT THE PORN … 
Man Crush: Not too long ago we had a brief Twitter exchange about race and porn. Whenever you see a non-caucasian in porn it's either in a scene featuring rather street or "thug" types. It's honestly a bit rare to see someone of color featured in mainstream gay porn. Why do you think that's the case? Or do you disagree?
Trey Turner: This is a tricky answer, but unfortunately white men are pro dominantly wanted in this industry for mainstreaming. I believe Latin and Black men should be used more often and given more opportunities. We have a lot to offer and give.
Man Crush: What's your favorite part of being part of the porn industry?
Trey Turner: Meeting new people and hearing how the came to be apart of the industry. The travel is a bit fun as well.
Man Crush: We all know that your super hot boyfriend Jessie Colter is also a porn actor. One of your fans wanted to know if you ever get jealous or feel strange seeing Jessie having sex with other people on camera?
Trey Turner: No not really. I trust my babesicles and know he loves me and only wants me off screen. This is a job and for the time being it is what it is.
Man Crush: How has porn changed your perspective on men and relationships?
Trey Turner: Well you really can't compare the two. Men are men most are only thinking about one thing and when you find the one who excepts you for everything you have and done. Then you keep him. As for relationships, take your time and be willing to compromise.
Man Crush: We all have career paths and goals. Where do you hope your time in porn will take you?
Trey Turner: On a journey of fun and new experiences to remember.
ABOUT THE BODY …
Man Crush: When I was looking over pictures of you for the featured crush post back in December, I couldn't help but admire your body. How in the world do you keep your body in amazing shape as you do?
Trey Turner: I work out a lot close to 6 days a week and watch what I eat for the most part. But I do love my sweets and pizza..
Man Crush: What's your favorite move in the gym? How about your least favorite?
Trey Turner: I enjoy working out my chest and abs and cardio is a pain in the ass but keeps me nice and trim.
Man Crush: You have amazing, let me rewind and repeat for emphasis, a-ma-zing abs. How do you train them?
Trey Turner: Crunches crunches crunches. I also have a phenomenal trainer who I take classes from.
Man Crush: For those trying to reach your level of fitness, what tips do you have for them?
80% of getting fit/losing weight is watching what you put in your mouth (dick has no calories….lol) Also dedication is a big help.
GETTING PERSONAL …
Man Crush: What's a misconception people have about you that you'd like to debunk?
Trey Turner: My teeth, yes I know they aren't the prettiest but I am trying to save up money. I want people to give me a break on it. It's not easy getting it all fixed.
Man Crush: There are some that treat porn like a career; others that treat it like a hobby; some who do it to earn a little cash on the side. How do you view career and specifically your involvement in it?
Trey Turner: Everyone has there own reason for doing what they do in this business. I say to each there own. As for me this isn't my career, I would like to produce a great product and have fun doing it.
Man Crush: What are you doing outside of porn?
Trey Turner: I work in fitness and retail.
Man Crush: What message would you like to relay to your fans? What would you say to the critics?
Trey Turner: I appreciate all the positive in put my fans have provided for me and the support for me to continue. As for my critics I take both the positive and negative comments and just use it to improve myself.
Man Crush: It's the question I ask everyone–whom do you have a man crush on?
Trey Turner: I have a man crush on Joe Manganiello which is Alcide from True Blood.
Man Crush: Is there anything else you'd like to add that hasn't been discussed?
Trey Turner: Yes, to Jessie [Colter]: Babesicles! Ever since I have met you it has been nothing but fun and bliss. You make me feel incredible. I can not wait to see where this road leads us but as long as you are by my side and I know I can lean on you in times of weakness because you can without a doubt count on me. I LOVE YOU my Fuzzy Lumpy Space Bear! –Trey (Baby Cakes)
You can follow Trey on Twitter @TreyTurnerX.
Follow The Man Crush Blog on Twitter | Facebook | Tumblr