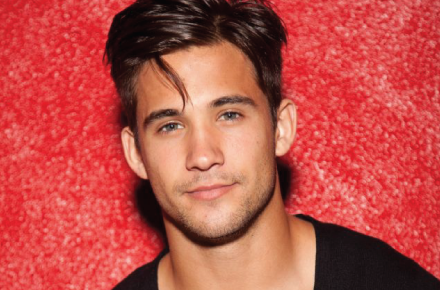 I'm getting into NBC's The Voice this season and not but two weeks into the show am I already pretty pissed off. Case and point–today's "eye candy" Dez Duron. When he stepped out on stage I just felt my imaginary ovaries explode. I was already looking forward to seeing Dez go through the whole season with that fit body, the smile that could melt the polar ice caps, the hairy and buff chest. And what happened? The judges all passed on him. Yep. Not one of them turned around and gave him a chance! Obviously none were fans of the Backstreet Boys but I wouldn't have held it against him at all. Now, I'd have wanted to hold something else of his against me but that's another kinda post.
Dez was born and raised in Shreveport, LA. He's taken part in various singing groups but was on The Voice to really make his mark. I think getting axed from The Voice probably did more for him than being on the show could've done because he's definitely landed on our radars and has everyone crushing hard on him. You can follow Dez on Twitter @DezDuron, like his Facebook page and check out his YouTube page for more instances of his musical talent.
Follow The Man Crush Blog on Twitter | Facebook | Tumblr
Click on thumbnails to view larger images.