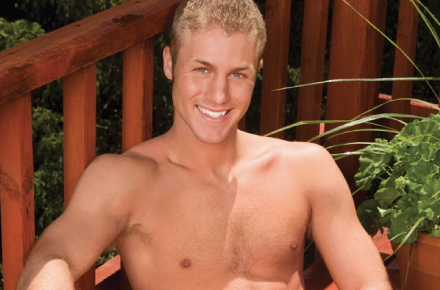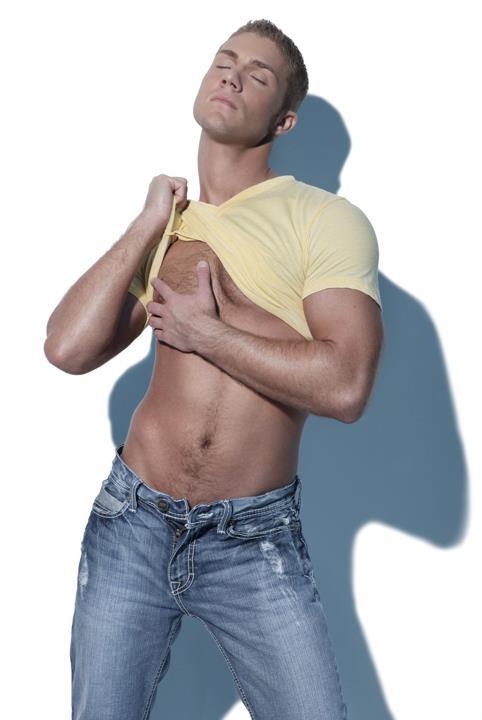 Andrew Jakk won the first Man Crush of the Month vote last month and now I've managed to get an interview with the cute and enticing model turned porn actor. Much like a Transformer you'll learn that when it comes to this blond stud there's more than meets the eye. He and I lay, ahem, sit down and chat about everything from who he'd fluff if given the chance to his aspirations beyond the porn industry.
Ice Breakers:
Man Crush:
You're given the opportunity to fluff anyone you'd like. Who'd you choose?
Andrew Jakk:
David Beckham.
Man Crush: You're in the gym or about to workout, period. What song gets you motivated?
Andrew Jakk: I'm a big fan of Rihanna so probably "We Found Love"
Man Crush: Do you have a favorite quote or personal motto that you live by?
Andrew Jakk: Yes, it's on my Facebook. The quote by Marilyn Monroe which seems to be very fitting right now. "I believe that everything happens for a reason. People change so that you can learn to let go, things go wrong so that you can appreciate them when they're right, you believe lies so that you learn to trust no one but yourself, and sometimes good things fall apart so better things can fall together."
Man Crush: You're able to be or do anything in life, regardless of schooling, education, money or other requirements. What would you do?
Andrew Jakk: I would like to become a high fashion model for either Wilhelmina or Ford Models. However, 5'11"ish seems a little too short.
Man Crush: What's one thing few know about you that you'd be willing to share with us today?
Andrew Jakk: I love animals and have a beautiful Bearded Collie named Austin that I showed for the past seven years. He is a multiple Best In Show winner and one of the great ones for his breed. However, he retired in October.
Porn:
Man Crush: I'd imagine being in the porn industry comes with a lot of pressure–from keeping in shape to fitting into someone's idea of hot. From your experiences so far, what would you say are the biggest obstacles and pressures you've faced?
Andrew Jakk: Well as you pointed out, it really is fitting in with a particular company and what the people that run it think is hot. Not necessarily their fan base but what they like. Many times for my shoots I have had to shave my face and trim my chest really short for a clean younger look. However, I've been told that not many blondes can grow hair and that they find it extremely sexy that I have chest hair. Other things I have experienced is it's kind of a competition for models to go to extreme lengths to look good. Most of all is steroids. I think steroids are an easy way out from having to work hard to get the perfect physique. I know models that get Botox and have even started getting their asses pumped to look good. It just seems so artificial instead of going with the natural you. You either have it or you don't.
Man Crush: Though you've just gotten into the porn industry, do you see a "light at the end of the tunnel?" Meaning, do you have an exit strategy or point when you think you'd consider leaving it all behind?
Andrew Jakk: Yes, I recently graduated this past December with a Bachelor's in Public Administration. So I will definitely have a career someday and go out into the workforce. My main priority is to focus on my modeling career more. They say porn can affect a modeling career in a negative way so we will see.
Man Crush: In other interviews you've mentioned how being involved in porn has sort of put a damper on your relationships and that you've been single for a while. So, tell us about the kind of guy or relationship that would make you happy. For the right guy or relationship, would you give up porn for good?
Andrew Jakk: The type of guy I like is a muscular dominant top kind of guy that likes to cuddle. He needs to have a sense of humor and just be able to have fun but is mature at the same time. Yes, I wouldn't think twice leaving the porn world for a guy that I am committed too. I don't feel if I have truly fallen for someone, how I could leave him at home while I'm going to have sex with another guy. Granted it's just work but then I feel it would just be an open relationship which I don't believe in anyway.
Man Crush: Recently on Twitter you announced you were no longer an exclusive with Falcon Studios. What does this mean for your career in porn?
Andrew Jakk: I'm not going to say too much, but Andrew Jakk isn't done just yet. *Wink Wink*
Man Crush: We've touched on some of the pitfalls of the porn industry. What would you say are some of the good things about being in the porn industry?
Andrew Jakk: Well to start off, even though I left Falcon Studios I still gained a great friend Adam Robinson the VP of production. You meet interesting people that each has their own story and it's cool to learn more about them. The traveling is an awesome part of it too. I also love appearances. I have done a couple so far and it's cool to know that people are out there who are actually fans. Speaking of appearances I have one coming up March 9th in Nashville at Play Dance Bar.
The Body:
Man Crush: For most in porn, the most important thing is usually the body. How do you keep in shape?
Andrew Jakk: Well I workout 5 times a week and eat lots of protein and carbs. I have a high metabolism so I actually am on a weight gainer shake. Each serving is almost 1000 calories. I'm not a big eater and I need to be. So I balance this out with weight gainer shakes. I also take the New Whey protein shots which are great.
Man Crush: You've stated that you're primarily a bottom which makes your ass your greatest, ahem, asset. What moves in the gym do you do to workout that part of your body?
Andrew Jakk: [Laughs] This is always fun to do in the gym as all the so called "straight" guys look until I catch them looking and then they snap their head away. However, to work the glutes I get on my hands and knees and kick my right leg back behind me 30 times. Then swing it out to the side 30 times kind of like the chicken dance but with your legs. Then I do the same thing with the left leg. I do three sets of these. I'm also beginning to add weight with little sandbags that Velcro on to your foot.
Man Crush: I've read you're trying to pursue a career in modeling as well, another industry that makes having a fit body a necessity. When you're working out, what's your least favorite muscle group or set of exercises to do? How do you charge through it?
Andrew Jakk: Yes, modeling is my main passion and hope things will take off in that spectrum of my life. As to the least favorite exercises I would have to say the ones that work the back muscles. You don't really see the back muscles as much when you're looking in the mirror or facing a camera. However, you have to be proportionate to your body and if you don't work the back muscles then that will mess everything else up since the back helps you build your chest with the bench press. So in the end you will just hurt yourself if you don't work all your muscles equally.
Man Crush: What's your gym tip every guy should take?
Andrew Jakk: It is never too late to start working on your body and become fit. Results will eventually show and you just have to keep at it. To be honest, a year ago January was the first time I walked into a gym. I weighed only 130 lbs or so and was really skinny. Right now I weigh about 153 lbs. with most of the weight being gained within the first 4 months. I bought a book and just taught myself. If you are committed to being fit and have the drive to do so, then results will start showing sooner than later.
Personal: 
Man Crush: You came out on top in the January Man Crush of the Month poll. What do you think makes you crush worthy?
Andrew Jakk: Yes, that was very exciting to win that with all the hot and sexy guys I went up against!!  I would have to say my smile and blonde features since that's what I get the most compliments on.
Man Crush: Consider that old saying, "Gentlemen prefer blonds." Do you think that's true for gay men? 
Andrew Jakk: It seems that if you're blonde with green or blue eyes that you get a lot of attention. However, just because you're blonde doesn't mean you're the perfect guy. Everyone has their flaws and it matters what's on the inside too as a person. So being blonde is just half of the puzzle. However, I will say this, guys may prefer blondes but I don't think blondes prefer other blondes. I usually go for darker haired guys but just depends of course.
Man Crush: In what way have people in your life underestimated you so far in life?
Andrew Jakk: In the beginning I was underestimated as I had many dreams and goals. However, now that my family and friends see that I can accomplish anything I put my mind too, they just stand behind me and know it will happen.
Man Crush: Who do you currently have a man crush on?
Andrew Jakk: Well the last scene I did for Falcon was with the sexy Dylan Roberts so I kind of had a crush on him. I also like Kris Evans from Belami.
Man Crush: What's next for you? Do you have anything you'd really like to accomplish in the near future?
Andrew Jakk: I'm not really sure what's next for me. I had a photoshoot with Murray Grondin here in Detroit which the photo from twitter is one that he took. He was so impressed with how they turned out that he asked me to comeback to appear in a calendar he does for a company in LA. Also, I submitted some of the photos from that shoot to top modeling agencies here in the US and abroad. So I'm waiting to here back from them. As to my porn career, stay tuned as I'm not done just yet.
Man Crush: Here's your chance to speak to your fans. What message do you have for them? What message do you have for your critics?
Andrew Jakk: Most of all I would like to thank everyone that has given me such positive feedback and stood by my side so far in the industry. Your support means a lot. Also, I would like to thank everyone that votes for me on the blogs to keep me coming out on top. If anyone has questions or would like to talk they can follow me on twitter or my Facebook. Thanks for taking the time to read this!