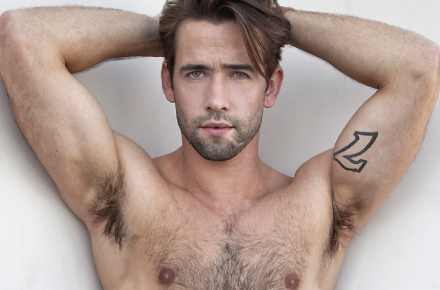 When I saw pictures of this model begin to flood the Internet, I had to find out who he was and get him on the blog. The fact that Levi is a natural hottie with un-manscaped hair, a touch of ruggedness and a drool-inducing body simply had me beside myself and smitten with him. He's sort of new on the scene and worked with the great photographer David Wagner whose work rivals that of Rick Day in terms of capturing the hotness of everyday hunks without needing to Photoshop or airbrush them to death. David's discoveries like Levi has definitely put him on my list of favorite photographers at the moment.
When asked, Levi revealed this about himself: " I'm 26, Scorpio originally from Kansas. I plan on pursuing my dreams in NYC next year. I am a business student, artist, music enthusiast. Eating a healthy balance and staying active are key to my physique. My current training regimen includes rock climbing and rowing."
You can check out Levi's ModelMayhem profile for stats and additional photos. Photographer David Wagner got into photography after spending 20 years in the advertising industry. Of his career change and love of photography he says, "I love working with models and shooting fashion and fitness but I also shoot urban landscapes and even romance novel covers. I don't think there is a limit to my interest in photography." You can see more of David's work on his ModelMayhem page, on his Tumblr or by visiting his website www.wagnerla.com. You can also follow him on Twitter @wagnerlaphoto.
Follow The Man Crush Blog on Twitter | Facebook | Tumblr
Click on thumbnails to view larger images.