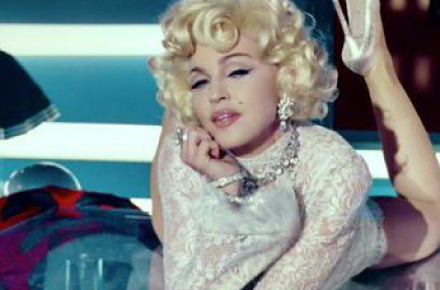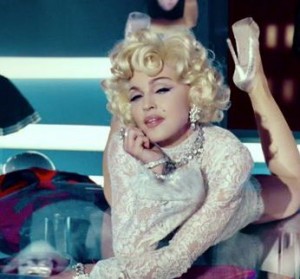 The music video for the first single off Madonna's new album MDNA has been released! "Give Me All Your Luvin'" offically launched today with not only the single being available to download from iTunes but the music video also being released. "Give Me All Your Luvin'" features rapper Nicki Minaj and M.I.A.
Perhaps as a nod to her big date with the world via her Super Bowl halftime performance, the video features Madonna being escorted, protected and defended by her own football team. As she makes her way from her house she strips down to her usual hot pants, high boots, leopard print bra and makes her way to the strip club where she transforms back into her old Dick Tracey Breathless Mahoney character and puts on a bit of a dirty dance show for a room packed with cheerleaders wearing masks. She, Nicki Minaj and M.I.A. dawn outfits that'll remind you of the iconic 1984 VMA "Like a Virgin" performance.
Single and video review: After seeing the minute-long preview on American Idol I was admittedly a bit let down by how the video looked. Madonna seemed to go from powerful woman who defied aged to a bit of a desperate housewife type with small movements, no real punch and playing it safe. Well, after seeing the video in its entirety I can say the opening is really the lamest part. When Madonna gets into her white laced stripper outfit and takes the stage, I literally squealed with delight. This is the dirty Madonna that seemed to fade away after the Erotica and Bedtime Stories era. The choreography wasn't complex but when she, Nicki and M.I.A. take the stage, there's definitely a fun, new life that comes through.
I'm usually not a fan of Madonna collaborating but turning the demo of "Give Me All Your Luvin'" into a girl anthem and letting Nicki and M.I.A. do their thing on the track does bring the track, which feels kind of old school, into the present. I know there will be the usual complaints, mostly from the Gaga stans, that she's singing and not acting her age but when has Madonna ever played by the rules and played it safe? The beginning of the video seems to be her playing it safe, symbolically and visually with the football player keeping her safe. When they depart, she's on center stage and definitely feels less guarded and more her naughty, dirty self as she and the other girls do their striptease with hints and nods to her Sex book, Erotica album and even her famous Britney/Xtina VMA makeout session.
Follow The Man Crush Blog on Twitter | Facebook | Tumblr