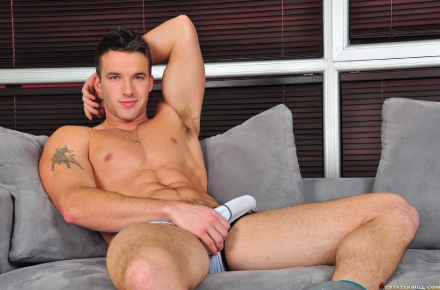 Not only is it "fluffer" Wednesday but it's a new month which means today's featured crush needs to be a real homerun. So, whom other than Trystan Bull could pull that off? He's appeared in porn clips by Next Door Male, Next Door Buddies, Next Door Hookups and Colt. He's been filmed getting it on with men and women. He's Canadian, has a lean, fit body and when he goes totally unclothed … well, you'll probably want to give him a standing salute of your own.
For a while he was mainly solo in his videos but in April of last year he finally hooked up with a guy on camera, fellow Canadian and porn actor Alexy Tyler. For me though whether he's going at it solo, with a guy or with a girl, Trystan is definitely someone who can keep my interest and quite entertained.
You can follow Trystan on Twitter @TrystanBull or check out his official website www.trystanbull.com. You can see some of the pics here from his Facebook page with a few NSFW, 18+ yo pics mixed in as well. For even more revealing pics, a few will pop up on The Man Crush Tumblr throughout the day.
Follow The Man Crush Blog on Twitter | Facebook | Tumblr
Click on thumbnails to view larger images.