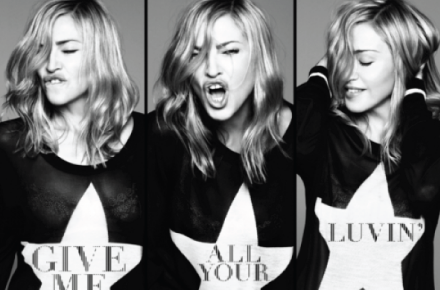 In 2011, we heard a lot from the younger pop acts like Britney, Rihanna, Gaga and so on but it's 2012 and guess who's coming to reclaim her throne? That's right, the Queen of Pop herself MADONNA. Now really, I can't even begin to tell you how excited I am. I was of course looking forward to her new album but this morning when the press release finally hit the Internets, I nearly died. I mean, gurl is finally stepping it up and entering into the 21st century. While she usually only has a 12-track album with one or two bonus tracks, MDNA will be released in a deluxe format with a whopping 18 tracks. YES, that's like two albums worth of music from Madonna in ONE year!
Oh, it gets better. With her big Super Bowl performance on Feb. 5 on NBC she's actually stepping up her promotion this time around. It was announced that her new single "Give Me All Your Luvin'" will be released Feb. 3 as well as the music video for it, ahead of her Super Bowl performance; a sneak peak will air during American Idol on Feb. 2; The album MDNA will be released March 26; there will be a special iTunes pre-order where the album will be sold for $9.99 and you'll get a bonus remix and the single all at once; she'll be sitting down for a full-hour interview with Anderson Cooper on Anderson on Feb. 2; she'll also appear on the Tonight Show with Jay Leno. YES. Finally it feels like Madonna is about to deliver instead of staying quiet and expecting her performance and album to sell itself before she jumps on tour. The official single cover art featuring a refreshed and sexy Madonna is to the right. The full press release is below and you can expect tons of more Madonna news to follow in the coming weeks.
"Madonna will be releasing her new single "Give Me All Your Luvin'" featuring Nicki Minaj & M.I.A. on February 3rd, three days before her highly anticipated Bridgestone Super Bowl halftime performance, it was officially confirmed by Interscope Records. 
"Give Me All Your Luvin'" is the first single from Madonna's upcoming album MDNA, her 12th studio album and follow up to 2008's Hard Candy which debuted at No. 1 in 37 countries. The song was written by Madonna, Martin Solveig, Nicki Minaj and M.I.A, composed by Martin Solveig and Michael Tordjman and produced by Madonna and Martin Solveig.
 iTunes will offer an exclusive global pre-order of an 18 track Deluxe Edition of MDNA including one exclusive remix from Madonna's new album. The bonus remix will be available from Friday, February 3rd through Monday, February 6th only. 
During this time period the album will be available for $9.99 and fans will also receive the digital single "Give Me All Your Luvin'" immediately. This single is also exclusive to iTunes during this limited time. At launch, the offer can be found at www.iTunes.com/Madonna.
 The video for "Give Me All Your Luvin'," directed by Megaforce, is football and cheerleader themed – inspired by her upcoming Super Bowl appearance. In an Anerican Idol exclusive, Madonna will world preview the video for her new single "Give Me All Your Luvin'," featuring Nicki Minaj and M.I.A., during IDOL Thursday, Feb. 2 (8:00-9:00 PM ET/PT) on FOX. The full video for "Give Me All Your Luvin'" will premiere on Madonna's YouTube channel on February 3rd at 9am EST/6am PST. www.youtube.com/Madonna.
 MDNA, recorded in New York and LA, reunites Madonna with former collaborator William Orbit ("Ray of Light") who co-wrote and co-produced several cuts on the new album. Other co producers include Martin Solveig, The Demolition Crew, Marco "Benny" Benassi and Alessandro "Alle" Benassi, Hardy "Indiigo" Muanza, Michael Malih andMadonna.
 The Golden Globe Award winning song "Masterpiece" from the Madonna directed Weinstein Company film "W.E." which opens in February is also included on MDNA as well as on W.E. – Music From the Soundtrack which is scheduled to be released on January 31st at digital retailers on Interscope as well. The Compact Disc version of the soundtrack is scheduled to be released exclusively at Amazon.com on February 14th. The score was composed, orchestrated and produced by Abel Korzeniowski.
 Madonna is scheduled to appear on The Tonight Show with Jay Leno Show on January 30th."
Update (1/31/2012): We now have a look at the official album cover for MDNA. It's very '80s and definitely a step in the direction from the confusing clash of craziness that was Hard Candy. My only complaint is that Madonna's face, which is iconic and a part of her whole legend, is distorted and broken up with this kaleidoscope treatment. Your thoughts?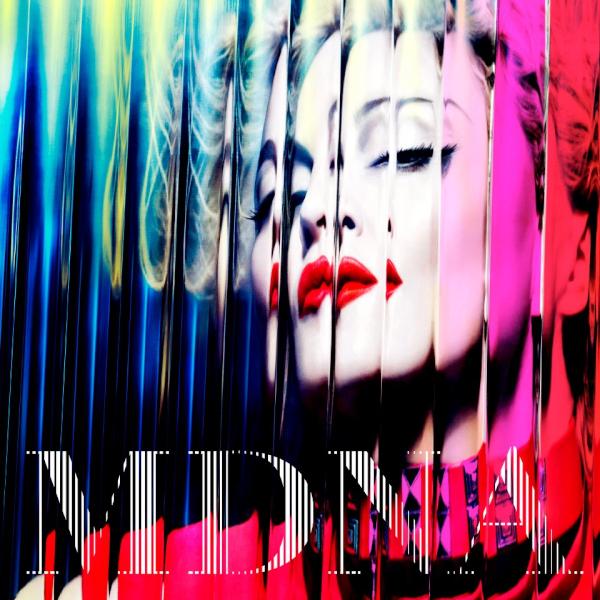 Update (02/02/2012): Madonna.com revealed the tracklisting of the 15-track standard edition version of MDNA.
– Girls Gone Wild
– Gang Bang
– I'm Addicted
– Some Girls
– I Don't Give A
– Turn Up the Radio
– Give Me All Your Luvin'
– B-day Song
– Superstar
– I'm a Sinner
– Masterpiece
– Falling Free
– Love Spent
– I Fucked Up
– Beautiful Killer
Follow The Man Crush Blog on Twitter | Facebook | Tumblr