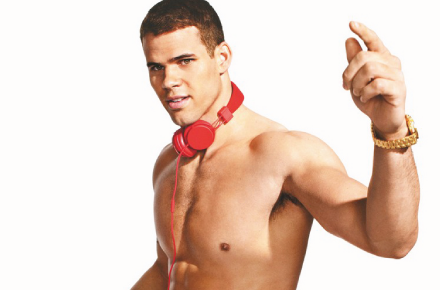 A few weeks ago I featured somewhat controversial sports figure Tim Tebow. This week I've chosen to crush on another controversial guy in sports, Kris Humphries. Yes, THAT Kris Humphries, the one who married Kim Kardashian. Now, no one really hates on his game. What they hate on is his whole reality television star status he took on this year when he married reality whore, I mean, ahem, starlet Kim and became another character in their never-ending reality empire.
Now, there's a reason he's on this blog. I kinda feel Kris is a bit of a Picasso. That's my term for a person who looks good from certain angles and like a total mess and disaster from others. When I first saw photos of him I was not at all impressed. But I definitely perked up and took notice when he started appearing shirtless everywhere. Now, his body is on point and slowly his face is catching up to be equally cute. His nice latte-like complexion is cute and different and c'mon guys, his grumpy, bitchy demeanor has to be appealing to a majority of gay males who act just the same. Plus, we've all gotten the hint that he's not at all a fan of Kim Kardashian. He had to endure 72 days of being her husband so let's hope he got a nice payout for that. Some of the photos into today's gallery are from his recent shoot with GQ magazine.
You can follow Kris on Twitter @KrisHumphries.
Follow The Man Crush Blog on Twitter | Facebook | Tumblr
Click on thumbnails to view larger images.