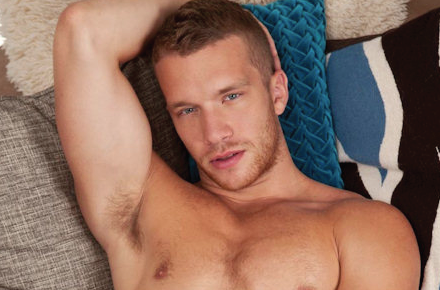 Randy Blue definitely seems to snatch up the hottest men in the porn industry, don't they? It recently acquired former Cocksure actor/model Jake Andrews. The scruff, the body hair, the perky ass, the hair … can he get any closer to a fantasy?  Here's how the people at Randy Blue describe this hot bottom:
"Jake Andrews is dripping with sex. One look at this hairy muscular jock and you'll be able to think of nothing but sucking on his nice big cock or fucking that hot ass of his. He's got dark blond hair and the perfect amount of sexy facial scruff to make him look wild hot without being unkempt. And you can't look into those deep blue eyes without popping a boner. His chest and stomach are lightly furry with a great patch of pubes. No manscaping here, Jake likes it all natural. And when he pounds his meat he really gets into it. He uses one hand to work up and down the shaft while he uses the other to reach down to his hairy hole and work a finger or two in. And the way his mouth opens and his eyes close while he's working his own body, you can tell that he's fantasizing about some hot stud ramming his ass, or maybe a three way orgy."
You can follow this hot crush on Twitter @JakeAndrewsXXX. Check out some rather NSFW pics in today's gallery below.
Follow The Man Crush Blog on Twitter | Facebook | Tumblr
Click on thumbnails to view larger images.