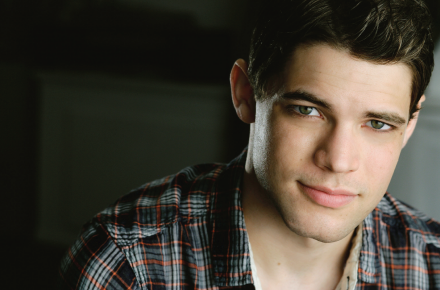 So, on opening weekend I ventured out to see the movie Joyful Noise. It's a musical that's really like Sister Act 2 with a younger cast. Basically, Queen Latifah plays a somewhat single mother who becomes the choir director after the church's former choir director keels over in the first 10 minutes of the film. He's married to Dolly Parton's character G.G. and she basically dislikes Queen Latifah's character who wants to sing old, boring church songs while the rest of the choir wants to sing upbeat, hip songs.
Well, while I enjoyed the movie the part of the movie I enjoyed the most was its male lead, Jeremy Jordan. Oh my Lord. Now, the photo of him on the promo posters and soundtrack cover really doesn't do him any justice. This guy is FOINE. I mean, oh Lord, I needed one of those flimsy church fans to keep myself from getting overheated. In the movie he sings his ass off, he takes his shirt off, he dances and shows that he has rhythm and can definitely work it. I mean … wooh. Besides starring in Joyful Noise, Jeremy's been on Broadway and has appeared in shows including Newsies, West Side Story and Bonnie and Clyde.
You can follow Jeremy on Twitter @JeremyMJordan or "like" his Facebook fan page.
Follow The Man Crush Blog on Twitter | Facebook | Tumblr
Click on thumbnails to view larger images.