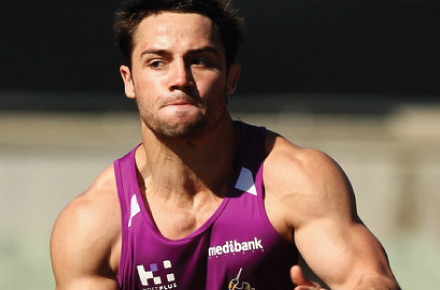 If there's one rugby player that seems to get tongues wagging it's Aussie Melbourne Storm player Cooper Cronk. Google his name and one of the first things that will come up are questions of if he's gay or not. Well, personally I think it's just wishful thinking but as SNL's version of Joy Behar would say, "So what? Who cares?" Whether he is or isn't, it doesn't change the fact that he's outrageously hot either way. Dark hair; fit, muscular body; looks great shirtless–really, when I first became aware of Cooper I felt the need to get "cronk" for sure.
A little about this stud: he was born in Brisbane, Australia in 1983. He's played with the Melbourne Storm his entire rugby career. Everything on and about him is hot from his muscular torso down to his fit, beefy, muscular legs. Oh, I should stop there. I'm starting to sound like Blanche Deveraux and so, really, there's tons to like and admire about this rugby stud. Check out The Man Crush Tumblr today to see a few more "cheeky" pics of Cooper.
Follow The Man Crush Blog on Twitter | Facebook | Tumblr
Click on thumbnails to view larger images.
[nggallery id=209]