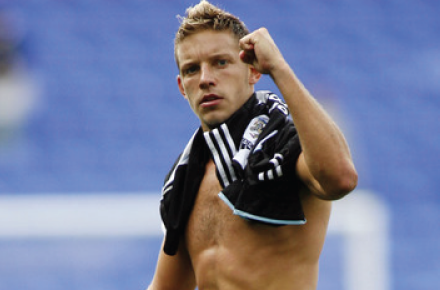 Alan Smith is a hot, blond rugby player from the U.K. Back in October he celebrated his 31st birthday but good lord, this guy could easily transition into a porn career he is so ruggedly gorgeous. He's able to boast that he's won 19 caps (what one gets from appearing on a select team (like an international team). But as you know, this isn't a sports blog and the extent of my interest and involvement in sports is how hot the players are and the moment I saw Alan shirtless and his rippling abs (as captured in some of the gallery pics below) I felt myself crushin' just a bit on him.
I definitely think he's gotten better looking over the years, especially having ditched his bleached blond look for a color that's a bit more natural. Also, he's given up the clean-shaven baby look for a bit of scruff, making him far more attractive than he was when he first entered the league.
Follow The Man Crush Blog on Twitter | Facebook | Tumblr
Click on thumbnails to view larger images.
[nggallery id=202]