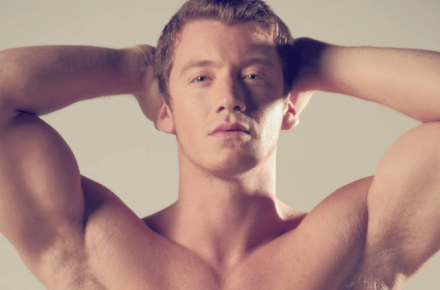 Even though today's featured crush looks great from the front and from the back, admittedly it was his ass that got my attention. Jayden posted a pic of himself, on all fours, posing in those backless Timoteo underwear that makes us all scratch our heads and proclaim we'd never be able to pull that look off. Well, he not only pulled it off but he looked hot doing it.
Jayden is one of the models featured on Randy Blue and in most of his scenes he bottoms. What gives him the edge over most bottoms however is that he's really all muscle–I love seeing the definition pop when he flexes or gets into other curious positions. Randy Blue is described as having, "light brown, almost dirty blond hair and grey eyes, with a chin strap beard that perfectly frames his handsome face. You can picture this horny college jock jerking off in the locker room while nobody is around, wondering if he will get caught."
For more photos and stats you can check out Jayden's ModelMayhem page, follow him on Twitter @jaydentylerxxx and subscribe to his Facebook page. And remember to visit The Man Crush Tumblr throughout the day for some NSFW, 18+yo pics that are a bit too hawt to post on this site.
Follow The Man Crush Blog on Twitter | Facebook | Tumblr
Click on thumbnails to view larger images.
[nggallery id=201]