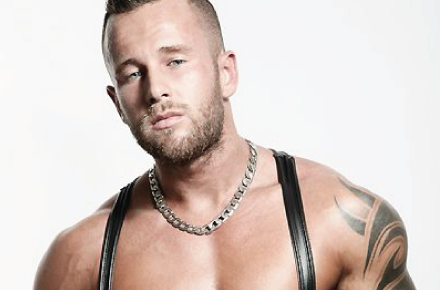 It's the first "fluffer" of the year and I decided to crush on Ben Brown for various reason. First, he's scruffy, second he's a bit muscular, third he's hairy and last but above all, he's pretty darn hot. Ben is a gay porn actor from the United Kingdom (London to be exact); he's 24 years old, 5'9," 8″ cut and verse. You've likely seen him in scenes by studios like Lucas Entertainment, Alpha Male F*ckers, Titan Men and Men At Play. You've probably seen him in movies on sites similar to gaypornhd.xxx if you frequent these pages regularly.
Here's how Men At Play describes Ben:
"Well what can we say about Ben that doesnt jump out instantly from seeing his pics. This guys is the real deal, 100%, pure Menatplay gold. With his smooth, tattooed, muscular physique, chiseled features and deep voice with a very sexy northern accent, Ben Brown certainly lives up to the British Beef label. But above all Ben just oozes sexuality. With his experience as stripper and podium dancer he knows exactly how to move to get your juices flowing. And if you still need any convincing just watch as he bends over to show you one of the most amazing asses we have had on MAP in a long, long time. If this does nothing for you, you definitely need to seek medical help."
You can follow Ben on Twitter @BenBrownUK check out Ben's blog or become a fan of his Facebook page for more updates and photos. For a few NSFW, 18+ yo pics of Ben you can check out The Man Crush Tumblr where a few will be posted throughout the day.
Follow The Man Crush Blog on Twitter | Facebook | Tumblr
Click on thumbnails to view larger images.
[nggallery id=196]