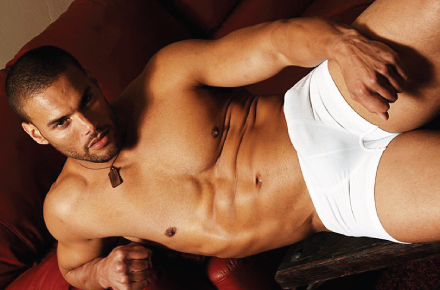 It's a new year so let's kick off a new year of crushes with someone worth talking about. Marcus Patrick is an actor turned model and occasional dancer that's kept us all entertained for a few years now. You may remember him from his time on Days of Our Lives on which he played Jett Carver. In 2007 he was dismissed/axed from the show following a spread in Playgirl magazine where he showed just how big of a star he is. Considering he's from England where the views on nudity are a bit different, I'm not at all surprised he showed his goods. I mean, I've seen the pics … what he's got to show is worth showing off.
Patrick has done his best to make his acting career happen but it just doesn't seem to be destined to happen. He left his role on All My Children due to "creative differences." He was dismissed from Days of our Lives, appeared on Beyond the Break … but really, we all know him from his modeling, his body, for wearing very little clothing and showing his weapon of (m)ass destruction in Playgirl. Lord, he's a gorgeous man! He's from Bath, England, born in 1974 and his married (sorry fellas/ladies), and does some humanitarian work.
For a peek at some of the revealing, NSFW (18+ yo) pics of Marcus from Playgirl, take a look at The Man Crush Tumblr today where a few will be posted throughout the day.
Follow The Man Crush Blog on Twitter | Facebook | Tumblr
Click on thumbnails to view larger images.
[nggallery id=194]