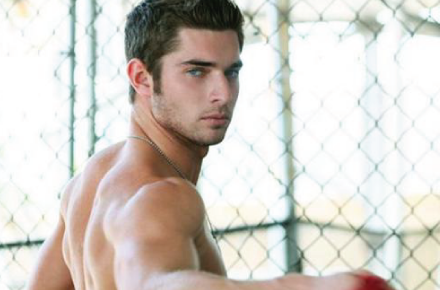 While today's featured crush is model Jay Parks, this post is more about the artist behind the shot than the model.
The Man Crush Blog (and the Man Crush Tumblr for that matter) wouldn't exist if it weren't from the often overlooked and unsung creatives behind the lens–the photographers! Yes, the blog benefits greatly from great work and efforts of photographers like the one behind today's featured crush's photos. Michael Downs is just one example of the many great photographers whose pictures have graced your screens on this blog this past year. It seems fitting that the last featured crush of the year be a nod to photographers like Michael for sharing their art and photos with the Internet, often without much recognition.
If you're looking for a site full of great, hot men shot by  Michael Downs, check out MasculineMag.com. As a bit of incentive for adding Masculine Mag to your bookmarks, here's one of my favorite models featured on the site: Jay Parks.
Follow The Man Crush Blog on Twitter | Facebook | Tumblr
Click on thumbnails to view larger images.
[nggallery id=189]