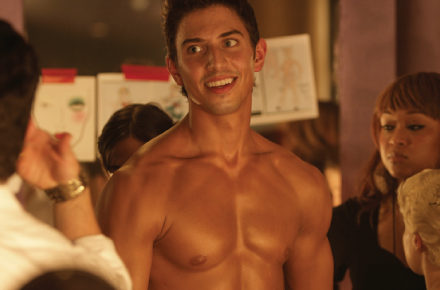 I don't often crush on Broadway actors but there's a first time for everything. Nick Adams, Lord! As Rihanna would sing, "wherrreeee have you been all my life?" Now, I never think of Broadway actors as being the hottest or fittest but there's a slew of photos (most included in the gallery below) that proves that Nick is the exception. Not only is he muscular, ripped and easy on the eyes but he's über-talented as well.
A little background on Nick–he was born in 1983; he's from Erie, Pennsylvania; his Broadway credits include Chicago, A Chorus Line, Guys and Dolls and La Cage Aux Folles. You can currently see him in Priscialla, Queen of the Desert. In it he plays Adam/Felicia. He has also appeared on television including shows like The View, The Guiding Light, As the World Turns and The Today Show. He's also modeled underwear for the brand 2(x)ist.
You can follow Nick on Twitter @TheNickAdams or visit his website for more information and updates.
Follow The Man Crush Blog on Twitter | Facebook | Tumblr
Click on thumbnails to view larger images.
[nggallery id=190]