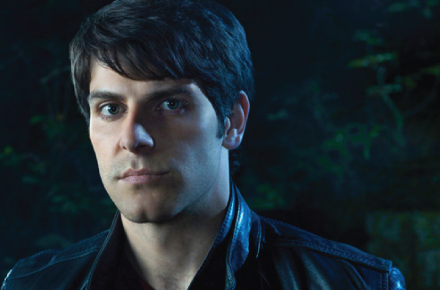 I'll be honest–the NBC show Grimm bores me. On the flip side, I find the lead actor to be hot as hell. What a dilemma! David Giuntoli is one gorgeous man. I vaguely remember David from his time on MTV's Road Rules: South Pacific back in 2003. Since his days of going around completing ridiculous challenges on the road he's made a career for himself as an actor appearing in a slew of shows including CW's Privileged, Nip/Tuck, Eli Stone and The Deep End to name a few.
Now David plays Nick Burkhardt on NBC's Grimm. Grimm is sort of a cross between Scooby Doo and Buffy the Vampire Slayer, going around seeking out evil and saving the innocents of the world in the meanwhile. It's a take off the Grimm fairy tales and the only thing that really interests me about the show is David himself. His dark hair, the blue eyes … I get scared when I'm watching the show not because of the ghouls and goblins featured but because I'm always scared I'm gonna end up pregnant by the end of the episode from eye fucking David.
Follow The Man Crush Blog on Twitter | Facebook | Tumblr
Click on thumbnails to view larger images.
[nggallery id=186]