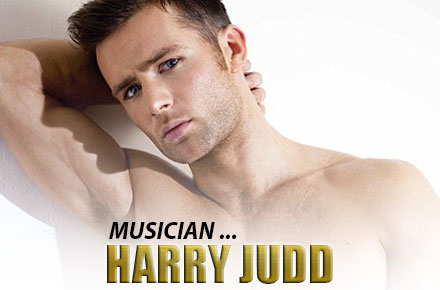 Earlier this year I posted how I had a crush on Dougie Poynter from the group McFly and somehow I missed the other hottie in the group–Harry Judd. I've been seeing his name come up a lot this year due in part of his participation in the UK series Strictly Come Dancing. Even before his appearance on the show he's had a rather awesome year: he appeared on the cover of Attitude magazine back in February of 2011 in his first solo shot. That's where a majority of the pics today come from. We've all been blessed and treated to his ripped, muscular body that got me, and I'm sure many others, hot and bothered.
Harry also appeared on All Star Family Fortunes, the UK version of Family Feud. Many of you know him from the band McFly, a British pop (sometimes billed rock) band. He was also the drummer for the band Busted. But now, back to Harry. My Lord, he is just too good looking and pretty to be stuck in the background playing drums. I can think of a few other things he needs to beating but I'm not sure if he's ready for that sort of career change. The muscles, the abs, the definition … just woah. WOAH. We need to import Harry to the U.S. pronto.
You can follow Harry on Twitter @mcflyharry.
Follow The Man Crush Blog on Twitter | Facebook | Tumblr
Click on thumbnails to view larger images.