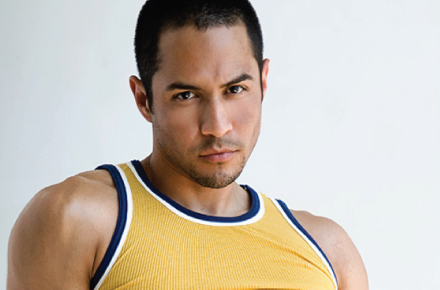 Gio De Marco is the kind of model I adore–one who has few inhibitions. He'll show his ass, he'll show skin, he just give us all a lot to look at. Gio has appeared in the 2009 Latin Men Calendar, Kurt Brown's books "Body Of Man", "Man Vol. 1", and his latest "Earthly Beauty" and "Visions," a collection of contemporary male image photography by various artists.
A little 411 on Gio: he was born in Guatemala and currently lives in San Jose, California. He entered into the modeling industry in 2005 after appearing in a fashion show where he salsa danced with another model. He was photographed by Desi/Zedneram and so began his modeling career. On his ModelMayhem profile he states that he doesn't shoot nudes, even though you'll see a few "cheeky" photos in his portfolio. He states that his decision not to do nudes, or more specifically full-frontal, came after his booty shots. He hasn't ruled out nudity in the future but states that he'll only due it if it's tasteful. Let's pray such a shoot pops up soon! For an in-depth interview with Gio, check out Bliss Male Mag.
You can keep up with the latest from Gio by following him on Twitter @GioDeMarco1 checking him out on Facebook.
Follow The Man Crush Blog on Twitter | Facebook | Tumblr
Click on thumbnails to view larger images.
[nggallery id=182]