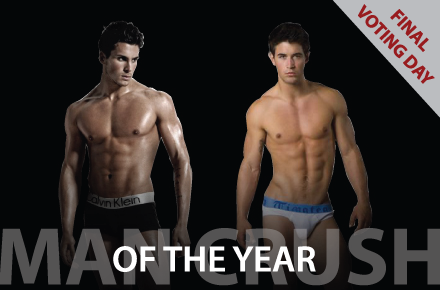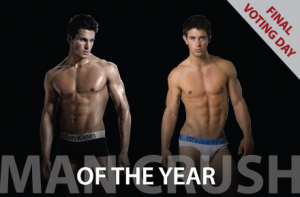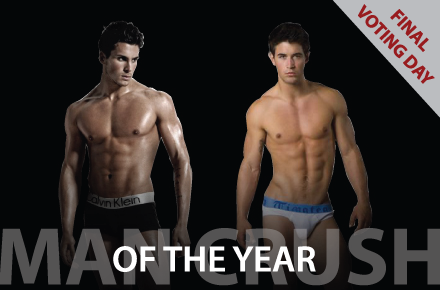 As Michael Jackson said before his timely demise, "This is it, this is REALLY it!" If you haven't already voted in the 2011 Man Crush of the Year competition then todays's your last chance. After two rounds of voting the competition that started with 10 hot men has been brought down to just two: models Benjamin Godfre and Richie Nuzzolese. It's no surprise that these two ended up in the final round as both have been big successes in 2011. For Benjamin he seemed to come out of nowhere and become one of the Internet's favorite  (and quite naughty at times) male models. Richie Nuzzolese  had us all experiencing whiplash when he (and his abs) stole the scene in Katy Perry's video for "Last Friday Night." Ever since he's blown up the social media sphere and has us all crushing over the hot, hunky, muscular guy-next-door. Only one can claim the title of 2011 Man Crush of the Year. Which one of these hot men gets your vote?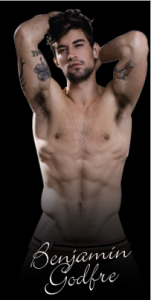 Benjamin Godfre (November 2011) In just one day of being featured on the blog Benjamin racked up almost 2,000 views, making him perhaps of the most popular man crush of the day features in 2011. He's got a legion of fans who proudly call themselves "Benjaminions" and based on the level of interest he's drummed up, I predict Bejamin Godfre could be in store for quite a big in year in 2011.
Why you should vote for Benjamin: We all love bad boys and Benjamin is the kind of guy we wouldn't dare take home to mother because we'd be far too busy screwing around with him back at home. Tattoos, scruff, no qualms about being naked or showing off his peacock. While most successful models make a career out of being clean-cut and nice guys, Benjamin gives the male model stereotype the middle finger and does what he wants, how he wants it. He's blazing trails and setting the Internet ablaze and easily could easily be the 2011 Man Crush of the Year. [View his original featured post here]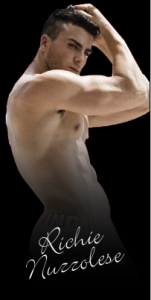 Richie Nuzzolese (June 2011) Richie's been modeling for a while but he got us all hot and bothered when we saw his abs and shirtless torso in bed next to Katy Perry in the music video for her track "Last Friday Night." Since then he's become another in-demand male model and crush amongst all the boys (and girls). He even has his own fanbase known as "Nuzzleheads" who help to keep this muscular hunk of a man on our minds all year long. Will they band together to push him closer to being the Crush of the Year?
Why you should vote for Richie: Richie is the kinda classic guy that we all love falling for. If this were 90210 he'd be the Dylan to our Brenda; you know, drop-dead gorgeous on the outside, totally gives off that bad boy vibe but turns out he's much like a Transformer because there's more than meets the eye. First, he's multi-talented (plays musical instruments, acts, obviously knows how to model). Next, he's one of the nicest, approachable guys you'd ever encounter and stays grounded and focused regardless of all the accolades and success. His drive, ambition and a body ripped out of a fantasy, it's no shocker that Richie has us all swooning and eagerly looking ahead to 2012 for what his next move will be. [View his original featured post here]
If you haven't voted already, VOTE!
[poll id="4″]
Voting ends TODAY, December 19, 2011 at 11:59 p.m. EST. VOTE!
Follow The Man Crush Blog on Twitter | Facebook | Tumblr