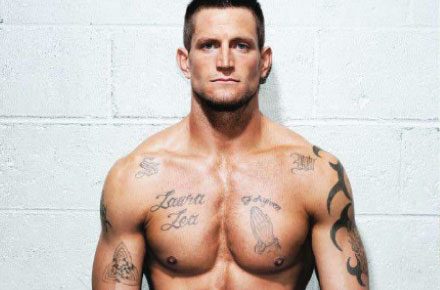 Today's featured crush is hot and this post is short and simple, meaning it's all about the visuals rather than me stating my case for why he's hot. I was flipping through the December 2011 issue of Men's Fitness and had to pause and take notice of the feature on New York Giant's punter Steve Weatherford. He's said to have one of the best bodies in the NFL and Lord have mercy, whomever made that claim was right. There are a few football players who have decent bodies but there are probably more who just look a bit bulky and pudgy. Not the case with Steve. Abs, biceps, tattoos, super flexible … like omg, get in my bed. Check out these hot photos of Steve from Men's Fitness' December 2011. Photography by Andrew Hetherington.
Follow The Man Crush Blog on Twitter | Facebook | Tumblr
Click on thumbnails to view larger images.