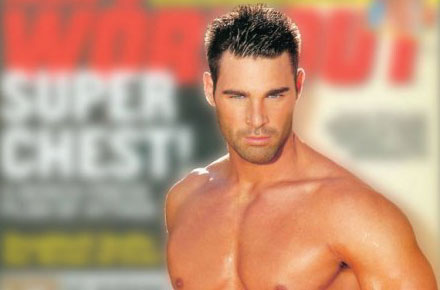 Today's featured crush is Charles Dera, porn actor who's actually into doing straight porn. But here's a hardly stated fact: homosexuals love straight porn! No, no, no, hear me out. We're not into all the vaginas and silicone breasts bouncing around the screen like that little musical sing-along dots but what we are into is the straight male porn stars. Let's be frank, a lot of the time the men in straight porns are a tad bit more appealing. They are aggressive, they aren't always completely manscaped and twinked-out, they are, ahem, well equipped where it counts. Case and point, Charles Dera.
In 2005 he was named Man of the Year by Playgirl. Before he got into porn Charles was in the Marine corps which is where his little chest tattoo comes from as well as the perfectly sculpted body. He was also a Chippendale dancer. Some of his porn credits include (and please hold your laughter, this is straight porn we're talking about) Anal Aspirations 7, Busting the Babysitter and Girl in 6 C.
For  few more revealing, NSFW, 18+yo shots you can check out The Man Crush Tumblr throughout the day.
Follow The Man Crush Blog on Twitter | Facebook | Tumblr
Click on thumbnails to view larger images.
[nggallery id=172]