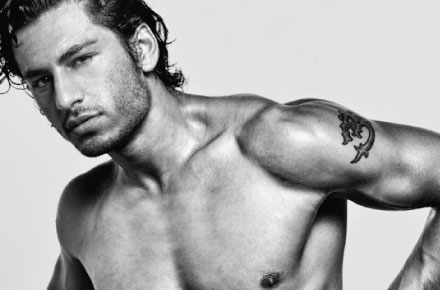 Oh, it's official. A majority of the hot men of the world are apparently in New York City, miles away from me. I stumbled upon today's featured crush on Tumblr and am infatuated. Infatuated! It's Turkish model Omeed Isari and he is seriously one of the hottest men I think I've seen … well, I won't say ever but at least all week. As usual, he was found and photographed by hot-shot photographer Rick Day and the photos are enough to get you all hot and bothered.
There's not much about him but here's what I was able to find out: he's a personal trainer at the New York Sports Club in New York City. He's from Washington, D.C. And sadly that's all that's out there about Omeed. Oh gosh! I need to know more. Like, why on earth is he so good looking? How does he handle his hotness? Does he make house calls because I have a few muscles that are stiff and need working out. Anyways, you can find Omeed on Facebook and let's hope that he'll grace us with tons of additional hot photographs in the coming year.
Follow The Man Crush Blog on Twitter | Facebook | Tumblr
Click on thumbnails to view larger images.
[nggallery id=168]