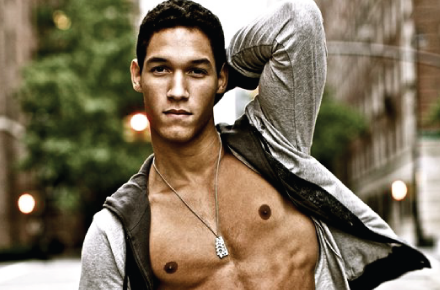 Today's crush landed in my inbox. I often put out there that I do take and consider submissions from readers and those that seem fitting land on here. So here's one that I'm sharing with you today–model Greg Kelley. He's a Jersey boy of a Puerto Rican/Irish background that produced this delicious, well sculpted hottie. Greg is a college junior studying communications and on the side he models. If you're wondering how he keeps in shape he attributes it to having run track for 14 years. He even earned the distinction of being number one in the state of New Jersey for pole vaulting. Oh, a guy who knows how to handle his pole is crush-worthy enough right there!
Here's what Greg had to say when asked what he felt made him crush worthy:
 "I think Im crush worthly because Im not like other models. I have positive outlooks on things; I help others who need help; I'm not into myself; I always have a smile on to show others Im happy and they should too; I have a good heart, and of course a nice body."
You can follow Greg on Twitter @Gregkmodel, find him on Facebook, or following his Tumblr.
Follow The Man Crush Blog on Twitter | Facebook | Tumblr
Click on thumbnails to view larger images.
[nggallery id=157]