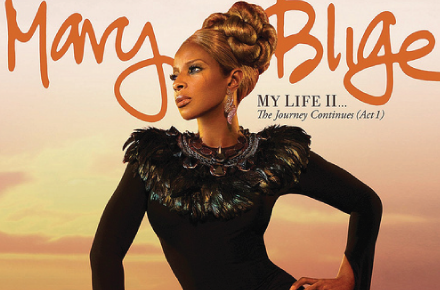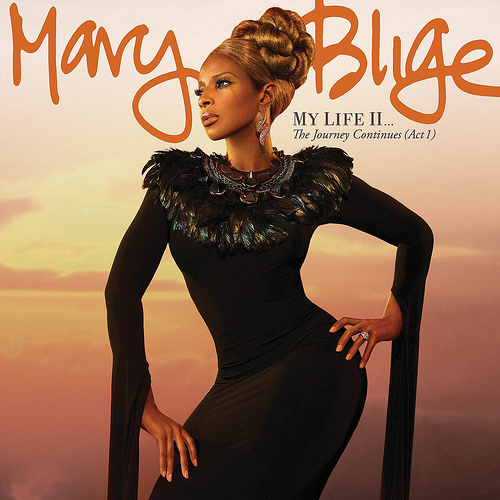 On November 21, 2011 R&B and hip-hop diva Mary J Blige is set to release her 10th studio album, My Life II…The Journey Continues (Act I). She's been absent from the scene for a while after the release of Stronger With Each Tear that didn't have the commercial success that The Breakthrough and Growing Pains did. This album has been an equally curious process as we've seen her struggle to find her musical footing, releasing a track with rapper Lil' Wayne that didn't make much of an impression and then trying her hand at a track with Drake that feels dead on arrival. Going back to the drawing board, Mary looks at her first album for inspiration. Is it a winner or is it, like most sequels, a bit of a bomb? Here's a look at the album's tracks:
Track-by-Track
"Intro" is just as it sounds and what you'd expect–a useless delay of actually starting the album. The listener is treated to a conversation between Mary J Blige and Diddy about how great the original My Life album is and whether a continuation is even necessary. Hold your laughter and response, please. Mary says this album is not "a competitor; it's a sequel and extension of how far we've come, ya know?" Ok, we'll take your word for it, Mary. "Feel Inside" actually lives up to one's expectations and takes her sound back to the roots. On this thumper of a track featuring Nas the sound of the music is actually on par with the music of My Life; it's that old school R&B that has a bit of an edge to it and feels a bit fresh. The track is Mary lamenting about how she gave her heart and soul to a relationship and feels she's being mistreated by her man (played by Nas in this case). The track fades into "Midnight Drive" featuring her alter ego Brook Lynn from The Breakthrough album. This is a bit unremarkable musically. It has a bit of a laidback vibe but the track never goes anywhere, even with her more urban, street alter ego featured on the track. "Next Level" featuring Busta Rhymes is upbeat but the track never goes and falls flat. There's a slight improvement in terms of the instrument backing but lyrically the track is lame. It's basically Busta and Mary trading lines about how they're flirting with one another and how they want to hook up.
"Ain't Nobody" is exactly what you think it is–a cover song! Mary J Blige takes on Chaka Khan's song and doesn't change it much from the original. It is, when compared to other tracks on this release, more interesting but it's interesting that Mary has to resort to doing someone else's song in order to find her groove on her own album. She's sassy, seems to have fun doing on this track while she sounds completely disconnected from her new original material. "25/8" has a very old school sound and is a good track to follow an old cover song. While the track doesn't break any new grounds, the concept of the lyrics is nice as she sings about how there isn't enough time in the day or in the week to love this person. "Don't Mind" keeps things flowing with a great chorus of Mary turning into her own backup and chorus singing, "And that's why I don't mind saying I love you." The rest of the song treads on familiar territory but the later part of the song definitely ramps things up a bit and Mary felt more like her old self. "No Condition" feels very different from Mary. "I'm in no condition to love you," Mary sings on this track that isn't really R&B or hip-hop. "Mr. Wrong" is already a single and it's clear why after listening to it and the rest of the album. Lyrically it's one of the strongest tracks, playing off the idea of how bad boys can be exactly what a girl needs. Drake's rap doesn't add much to the track at all.  "Why" features Rick Ross and has Mary spending the duration asking, "Why can't we get it right?" which is what I was asking myself listening to the majority of this album.
"Love A Woman" features Beyonce and really, Beyonce shows up Mary on her own album. Beyonce's lines are sung with some emotion and she has more of a presence on the track, making Mary feel more like the featured guest. The track itself is a "to do" list for men, telling them all the ways they can score points with their woman, in and out of bed. "Empty Prayers" marks a new style completely for Mary as she takes on the easy listening genre. Vocally she teases the listener, seeming as if she's on the verge of letting loose and vocally stunning the listener but then retreats and holds back. Still, it's one of the albums' more interesting tracks. "Need Someone" is a bit country; it has a violin, guitar and is acoustic for the most part. This is such a new sound for Mary that it's a track you'll likely have to listen to once or twice. As the title implies she lists out the various reasons why having someone who loves you in your life is essential to being happy. Considering this album is supposed to be a continuation of My Life, this track makes sense and shows Mary's evolution as an artist who is wiling to do something a bit more mature. "Living Proof" is a little gospel and lyrically is a bit of a testament. Mary talks about her journey and how far she's come and that even with odds stacked against her, she's made it this far and has found happiness success.
Final Verdict
I'll be frank–I dislike this album. In fact, I strongly dislike this album. We all know that sequels rarely work. They hardly live up to the original and though she states in the awkward intro that this isn't a sequel but a continuation, this fits the bill as a sequel. It's clear that after how hard Stronger With Each Tear flopped–though I think it's not as bad as critics and fans made it out to be–the marketing attempt was to create some excitement for this album by tying it to her big first album. Really, the result is not a great product. There's no focus whatsoever and the album feels like a hodge-podge of tracks recorded at different times. There's no club banger, she doesn't let loose on any track with her signature emotional vocals, there is no clear single or hit at all on this album. My question is where is the Mary J Blige we've all come to love and know? This seems more like a mid-life or mid-career crisis album; she's rocking her long Madonna Blond Ambition Tour pony tail, singing love duets with Drake and really has no idea who she is anymore as an artist. There's no individuality or uniqueness in the songs or music–anyone could perform these tracks with about as much energy and style as she did. By far her worst and lamest musical attempt by far.
Listen To These: "Ain't Nobody," "25/8," "Love A Woman," "Feel Inside," "Mr. Wrong"
Follow The Man Crush Blog on Twitter | Facebook | Tumblr
My Life II … The Journey Continues [Tracklist]
01. Intro 1:16
02. Feel Inside (Feat. Nas) 5:07
03. Midnight Drive (Feat. Brook Lynn) 4:12
04. Next Level (Feat. Busta Rhymes) 4:13
05. Aint Nobody 4:03
06. 25-8 3:55
07. Dont Mind 3:57
08. No Condition 4:27
09. Mr. Wrong (Feat. Drake) 4:01
10. Why (Feat. Rick Ross) 4:21
11. Love A Woman (Feat. Beyonce) 4:32
12. Empty Prayers 3:15
13. Need Someone 3:55
14. The Living Proof 5:54