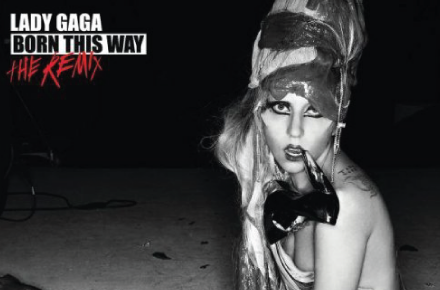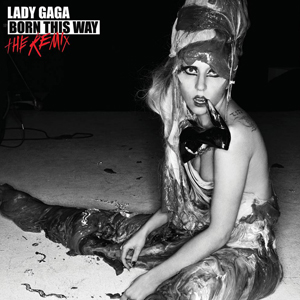 It's the holiday season and with the shopping frenzy kicking off next week with Black Friday, you should expect to see a lot of special releases coming your way. One being released on November 21, 2011 is Lady Gaga's Born This Way: The Remix. There are two different versions coming out–a standard edition with 14 tracks and one being packaged with a special re-release of Born This Way which will include the deluxe edition of the album, the new set of remixes and a DVD of the HBO special The Monster's Ball. Remix albums can go one of two ways–they can breathe entirely new life into overplayed songs and standards, much like Mariah Carey's The Remixes collection or Jennifer Lopez's J To The L-O! The Remixes, or they can simply fall flat with dull remixes that clearly were packaged and sold just to make a quick buck for the artist and label at a time where shoppers will be likely to be out in stores, ready to impulsively buy anything, much like Britney Spears' recent release of B In the Mix 2. Where does Mother Monster's collection of remixes fall in this? Here's a look at each track and what it brings to the table.
Track-by-Track
"Born This Way (Zedd Remix)" starts off with lots of clicking and strips away a lot of the lyrics in favor of a grinding instrumental track. Gets a bit monotonous. At around 4 minutes it starts in on the chorus which is the most interesting part. "Judas (Goldfrapp Remix)" is … odd. This came out a while ago and got many Monsters in a flutter. Pretty much Goldfrapp stripped out the pop in the song and made Gaga's vocals manly. Yes, you heard right. It's a darker tone, a sinister take on her upbeat ode to Judas. "The Edge of Glory (Foster the People Remix)" finally gets things right: the mix is upbeat like the original track, uses most of the original vocals. The instrumental is fast-paced, busy, but it never overpowers the vocals, making it a great remix that honors the original without completely tearing it apart. This is also a remix you could dance to or envision being played in a club. "You and I (Wild Beasts Remix)" is a bit of a hybrid of a laidback take on the original but it remains upbeat. The only vocals used really are the "This time, baby, you and I…" and parts of the chorus. It's airy and different but it feels like it's missing something overall.
"Marry The Night (The Weekend & Illangelo Remix)" takes one of the albums best tracks on the album and pretty much makes it barely listenable. Gone is the upbeat, party, crazily addictive track and in its place is one that's low-key, sleepy and sounds as if it uses Gaga's rough, untouched vocals which makes it rather awkward. As much as I adore the original track I could barely sit through this 4:04 drivel. "Black Jesus Amen Fashion (Michael Woods Remix)" improves on things just a bit by at least keeping things uptempo. The downside is that it only uses about one line from the entire track looped over the instrumental backing and this song had some fun vocals that could have been better used and incorporated. Instead we're treated to a 6:11 long track that could really be half that amount and probably be more effective and memorable. It definitely loses steam toward the end where there's just a monotonous beat playing out the track for the last minute. "Bloody Marry (The Horrors Remix)," as a clip, sounded really intriguing. Unfortunately the full track drags on with no real direction or focus. It's not so much a remix as it is a showcase of the remixer's instrumental they came up with.
"Scheiße (Guena LG Club Remix)" uses most of the original vocals and simply swaps in a new instrument backing. The new backing music is a bit more club-driven up until the bridge where you can hear more of a euro-dance influence that goes well with the track. The track, being one of the best on the original album, still holds up well in remixed form. "Americano (Gregori Klosman Remix)" ditches the original track's gypsy-inspired music for something more modern and dance-worthy. The music is crazy busy with drums, synthesizers, other percussion instruments and it all comes together to make one of Born This Way's best, and oddest, tracks into a foot thumping, head banging remix that takes top prize for most innovative re-imagining remix."Electric Chapel (Two Door Cinema Club Remix)" is actually a very subtle approach or tweaking to the original track. Vocals are left in tact and the music isn't too different to the point that if you aren't listening to the remix too closely you'd think you were listening to the original version. "You and I (Metronomy Remix)" is quiet and lacks the punch of the original track. There's little movement in this track as, again, the remix relies on repeating just the chorus and not much else. The instrument backing is just a few synth chords being struck. Not very inventive or interesting.
The "Judas (Hurts Remix)" is far superior to the Goldfrapp remix. Sure, it's darker but it's uptempo but the treatment of the song is better and gives it a slightly more epic feel. There's depth the track and it's not just a toss away dance or a forgettable pop track. It's not something you'll find yourself dancing to but it's still fun to listen to. "Born This Way (Twin Shadow Remix)" features Gaga singing in a lower register. The instrument backing sounds a bit retro and '70s inspired. "The Edge of Glory (Sultan & Ned Shephard Remix)" ends the setlist with the longest remix on the entire album. . This mix gets things right where a lot of the other tracks went wrong. This is something you can dance to, it's loud, it's busy but light and fun. Sure, if it stopped mid-way through the track around 3:26 mark, it'd easily be the best on the album but even in this super extended cut, it's fun and gets you hype and excited. Unfortunately this kind of excitement happens at the end, rather than start, of the album.
Final Verdict
This "remix" album is a lot like Lady Gaga is on the cover: kinda a mess. It's all over the place and where this could have been something really great and fun, it's instead a rather lopsided attempt of making another buck by the record label and Gaga herself. First, this isn't really titled an EP it's titled Born This Way: The Remix yet a lot of tracks that screamed for a good remix are left off! There's no remix for the the tracks "Hair," "Government Hooker," "Fashion of His Love," "Highway Unicorn," "Heavy Metal Lover" or "The Queen." Yet, they found time to stuff this remix album with a couple remixes that were previously released and even double up on some tracks that we've all heard far too much of this late in the era.
Another gripe: some of these mixes barely qualify as remixes. They are nothing more than some remixers trying to dazzle the crowds with their ability to come up with an interesting instrumental with little regard to the artist, lyric or original song. Remember old school remixes that took the track to an entirely new level? If it were a pop anthem the remixer would try hard to make it a rock anthem; if it were something childish and silly the remixer would make it something you could dance to in the clubs. That sort of spirit is missing from most of this album. The vast majority of these remixes are lazy, monotonous, unnecessarily bloated and simply uninspired. I'm not sure what the point was in not making this a real must-have product for die-hard Monsters and casual Gaga fans as well.
Listen To These: "Americano (Gregori Klosman Remix)," "Scheiße (Guena LG Remix)," "Judas (Hurts Remix)," "The Edge of Glory (Sultan & Ned Shepard Remix)"
Born This Way: The Remix [Tracklist]
1. Born This Way (Zedd Remix)
2. Judas (Goldfrapp Remix)
3. The Edge of Glory (Foster the People Remix)
4. Yoü And I (Wild Beasts Remix)
5. Marry the Night (The Weeknd & ILLANGELO Remix)
6. Black Jesus (Michael Woods Remix)
7. Bloody Mary (The Horrors Remix)
8. Scheiße (Guena LG Remix)
9. Americano (Gregori Klosman Remix)
10. Electric Chapel (Two Door Cinema Club Remix)
11. Yoü And I (Metronomy Remix)
12. Judas (Hurts Remix)
13. Born This Way (Twin Shadow Remix)
14. The Edge of Glory (Sultan & Ned Shepard Remix)
Follow The Man Crush Blog on Twitter | Facebook | Tumblr