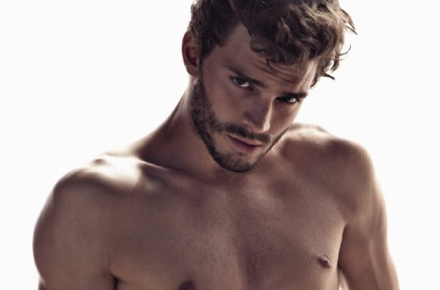 So guys … I'm really into the new ABC show Once Upon A Time. And when I say really into, I mean obsessed. Like, really. It's the perfect blend of drama and intrigue as the show takes characters we're all familiar and slaps a big ass soap opera-like spin on their lives. Snow White used to be gangsta stealing ish before she got all glammed up with Prince Charming; The Evil Queen is so bad and bitchy that you probably are cheering for her to f*ck up everybody's life more than she already has. Then there's The Huntsman, Sheriff Graham played by Jamie Dornan that totally has me feeling like a princess in my own dirty little fairy tale fantasy.
Oh gosh, can we talk about how ridiculously hot Jamie Dornan is? His accent; the beard; the body … he can treat me like Cinderella's glass shoe and slip right into me! Before he picked up the handcuffs and baton for Once Upon A Time he was (and still is) a very popular male model. He's appeared in campaigns for Calvin Klein; he was in the Marie Antoinette movie. Still, he feels a bit under the radar which is shocking considering how hot he is.
You can follow Jamie on Twitter @JamieDornan1.
Follow The Man Crush Blog on Twitter | Facebook | Tumblr
Click on thumbnails to view larger images.
[nggallery id=153]