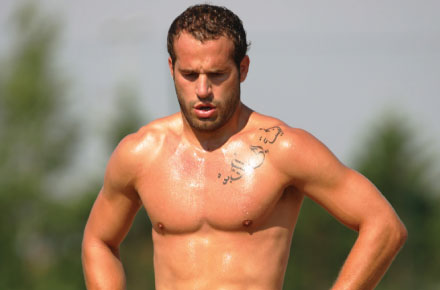 Frédéric Michalak can probably be credited for ushering in the trend of rugby players stripping down to barely anything in order to sell calendars or support causes. Back in the day Frédéric posed in the popular rugby-related calendar and DVD Dieux Du Stade. Take a look at his body: the level of fitness, the muscle, the abs, the lips … Frédéric is a favorite of men and women, gay and straight.
Frédéric is a French rugby player from Toulouse. He plays for the Sharks, a South African team. The 29 year old has, like David Beckham, capitalized on his good looks by modeling and putting his image on various products including a deal with Nike.
You can become a fan of Frédéric on Facebook and you can follow him on Twitter @michalakfred.
Follow The Man Crush Blog on Twitter | Facebook | Tumblr
Click on thumbnails to view larger images.
[nggallery id=150]