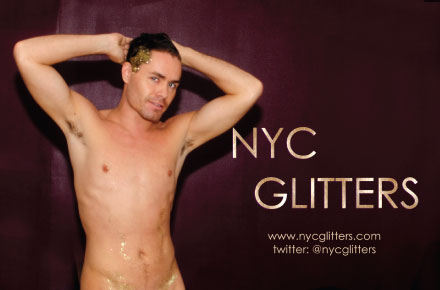 As you should know by now either from reading this blog or following me on Twitter (@man_crush) I am rather fond of my NYC men. Recently it came to my attention that there's a new web series being developed that features some rather good looking men but has it's own little soap opera-like plot to it. Obviously, it has my attention and I think you should check it out as well.
Here's the plot of NYC Glitters: Joe leaves his comfortable life in Philadelphia for life in the big city of New York. Joe makes new friends in NYC and the episodes follow their merry little gay adventures as they all adjust to life in NYC. His friends include Josh who struggles to balance love and pursuing his path to fame and stardom; Taylor, his female roommate, is a dancer and struggles to learn she can't control everything; Seth is young and still trying to define himself as an individual, which is hard to do in a place like NYC. In all of this, Joe's trying to maintain a long-distance relationship. Really, if you know anyone who's moved, lives or has talked about living in NYC then the premise of the show is appealing because it mirrors all the stories you have either heard or will hear as people try to adjust to life in the city. The whole idea of the series is that no matter how rough things may get, the characters can still emerge from the situations shining like glitter.
If you'd like to follow the development of this series you can follow them on Twitter @NYCGlitters or check out its website www.NYCGlitters.com.
Follow The Man Crush Blog on Twitter | Facebook | Tumblr