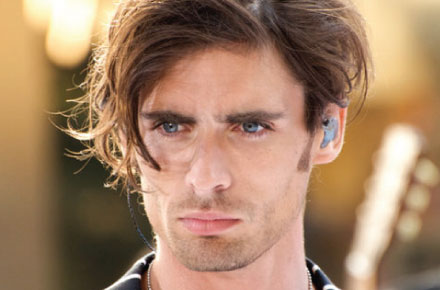 The other night someone on Twitter asked me a question you'd think I of all people would have no problem answering–if you could sleep with any celebrity, who would it be? I couldn't answer. It wasn't that I was being prudish and didn't want to divulge such information, it was that I seriously had no idea considering I spend every day crushing on someone new! The more I thought about it and went through the mental rolodex of crushes, it came to to me …
Tyson Ritter. Now, this guy has been on my crush list long before I even had this blog. I remember when I first saw him on television, probably in one of the first videos by the band the All-American Rejects "Swing, Swing." The first moment I saw him I was in love. I was already busy planning our wedding, naming our kids and picking out a color scheme for our bedroom. Tyson is gorgeous! The amazingly blue eyes, the black hair, the whole emo/punk/alternative look just has my doing all sorts of crazy things. Tyson: my body is ready.
You can follow Tyson on Twitter @tysonritteraar.
Follow The Man Crush Blog on Twitter | Facebook | Tumblr
Click on thumbnails to view larger images.
[nggallery id=133]