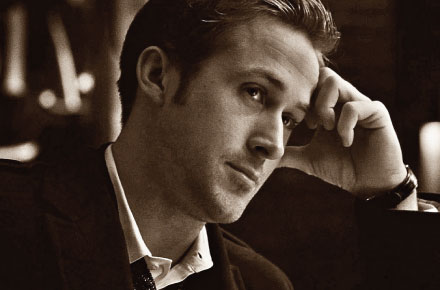 Ryan Gosling is one of those guys that I've admittedly been on the fence about it. When he's super scruffy I kinda look the other way but lately he's adapted a rather clean-cut style that has got my imaginary lady parts working overtime. I mean, look at the picture to the right taken from GQ magazine: the piercing blue eyes; the soft pink lips; the little 5 o'clock shadow; the suit. Oh goodness, Ryan Gosling, why are you so good looking and not in my bed?
Everyone's been talking about his recent transformation into a fashion icon. He didn't even land on my radar again until I saw him being discussed on the E! Show Fashion police about his red carpet appearance where he wore a dark green suit and made it work. Oh yes, work it, Mr. Gosling! Of course when I say that I mean it in a quite dirtier manner than Tim Gunn may.
Let's not even mention that when Ryan goes shirtless in the movies, as he has been lately, I think I hear angels cry he looks so good.
Follow The Man Crush Blog on Twitter | Facebook | Tumblr
Click on thumbnails to view larger images.
[nggallery id=131]