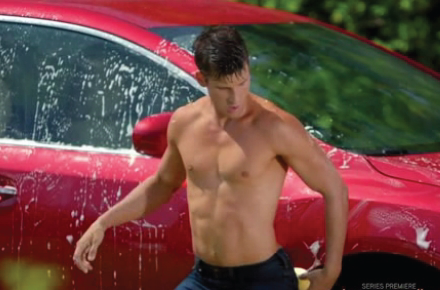 The new Fall season of television is in full swing and there are some obvious winners in terms of new shows and losers. One of my favorite new shows is ABC's Suburgatory. In a nutshell, a father and his teenage daughter leave Manhattan and city life behind for life in a cul-du-sac populated with Stepford wives, ambiguously gay men, pussy-whipped husbands and dysfunctional teens. One of those teens is neighbor Ryan Shay played by Parker Young.
People. Ryan Shay is ridiculously good looking and hot. He is by far not the sharpest knife in the droor and plays the role of dumb–but hot–jock well. So far we've seen his ridiculously ripped torso, his abs and is shockingly rather limber. If you haven't seen the scenes with Ryan Shay gyrating and seductively grinding his locker or wash his car shirtless while hosing himself down … then seriously, you're missing out on some hot  must-see-television. Below are a few more shots of this hot actor and gifs of his ridiculously hot moments on ABC's Suburgatory.
Follow The Man Crush Blog on Twitter | Facebook | Tumblr
Click on thumbnails to view larger images.