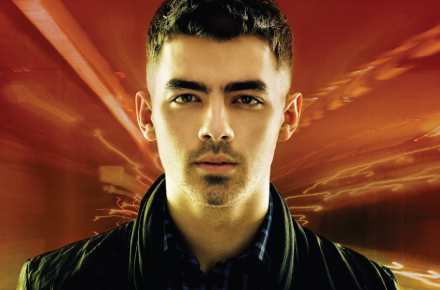 On October 11, 2011 Joe Jonas is set to release his first solo album titled Fastlife. Hearing that Joe was going solo admittedly made me a bit excited when I first heard the news. Joe is not only the best looking of the Jonas brothers but has noticeably the better voice. It wasn't hard at all to picture Joe going solo and I was curious to hear how his music came out. Joe's named people like Justin Timberlake as his musical and solo inspirations; he nabbed big-time producer and repeat-Britney Spears collaborator Danja to lead off the album: so obviously, Joe Jonas seems set for musical success. Well, hold that thought. While Fastlife definitely has it's great pop and dance moment, it also suffers that first solo album territory of the artist not truly knowing where he wants to go and how he wants to define himself. Here's a look at the tracks of Joe Jonas' solo album Fastlife.
Track-by-Track
"All This Time" is an interesting way to kick-off the album. This track isn't a club-banger, it isn't a dance track, it's a simple ballad that shows off Joe's vocal talents. "All This Time" is an innocent love ballad though the lyrics are a little suggestive if you read in-between the lines: "I put it right in your face, girl, it's yours all you gotta do is reach out and grab it." Sure, he's talking about his love though I couldn't help but to snicker and think he was talking about his, ahem, "love" especially when he sings, "I know you took it hard …. it's nothing to be scared of." Moving on, "Just In Love" feels like old-school boy band material; it's pop perfection with bubbly synths, a percussion beat that'll have you nodding your head in rhythm and singing along quietly in your room while you're all alone. It's easy to see why this was already chosen as a single due to the fact that it's so darn catchy and cheesy. "See No More" is supposed to be a power ballad and doesn't work as well as the album's first two tracks; his voice and vocals seem a bit stretched and strained and overall this feels a bit too cliché coming from a former boy-bander.
"Love Slayer" goes into a euro-pop direction; it sounds very much like a track David Guetta or Justin Bieber would do. It gets a bit monotonous and feels soft in spots. Having heard remixes of the track, such as the one by the Jump Smokers, it's more than clear this track can be a true "slayer" and head banger given a better instrument backing. It's not bad but it could be better. "Fastlife" gets interesting around 3:07 with the breakdown that has producer Danja's signature beatbox and Timbaland-inspired musical twists and turns. "Make You Mine" is another track that where the voice doesn't seem to match or meet the needs of all that happens in the musical backing.
"Sorry" slows things down and is obviously the track that's supposed to provoke the question, "Is he talking about …?" It's not terribly interesting, and feels like a watered down Justin Timberlake, "Cry Me A River." You know how this song goes probably just by the title: Joe spends roughly 5 minutes asking, "What can I do to tell you I'm sorry?" and describes the demise of a relationship that was once upon a time good. "Kleptomaniac" is quick paced, has a nice beat but the lyrics leave much to be desired. This is one track that feels like it needed something special in terms of some autotune or vocal tricks and tweaks. Sure, it has moments but there are others where Joe's voice is completely untouched and it feels out of sync with the rest of the track that's overly produced and busy. "Not Right Now" is another one of those monotonous songs where the song's title is on constant repeat, the music feels like something from the 1990s and nothing remarkable at all happens lyrically or vocally worth commenting on. In other words, it's complete album filler.
"Take It and Run" is probably one of the album's better tracks: it's definitely a dance track, equipped with a nice slowed-down interlude. Here, Joe isn't attempting or struggling to keep up with the backing track nor is he competing to be heard; he's very cool, calm and gives a good vocal performance.  "Lighthouse" closes out the album's original track; it's downtempo, slow, stripped down and rather simple. It's a rather expected, quiet, non-fussy way to close out the album. The album ends with a remix of "Just In Love" featuring Lil' Wayne. Again, this is probably the album's catchiest tracks and Lil' Wayne's rap doesn't necessarily add much to the track other than giving it a slight bounce .
Final Verdict
Not bad for a first solo showing but there's room for improvement. What struck me about Fastlife is how, well, lacking the album is lyrically. In many of the songs it feels as if Joe relies more so on the beat to make the song rather than his own personality and style. I still have no clue as to who Joe Jonas the solo artist is, even after sitting through almost 50 minutes worth of music. In some spots he sounds like he's gunning for Justin Bieber's corner of the market; in others, he  tries to be the second coming of Justin Timberlake. In the end, you have an album that doesn't really go anywhere terribly new or impressive musically. The lyrics are often repetitive and monotonous; the beats at times feel like they're recycled from discarded Backstreet Boy or 98 Degrees songs; in the end, a bit of a disappointment considering this was overseen by Danja.
http://youtu.be/s0ujF8D6-5k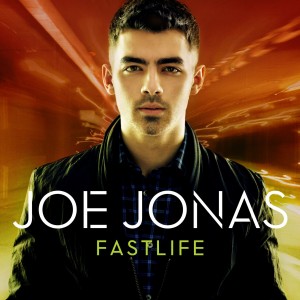 Listen To These: "Just In Love (feat. Lil Wayne)," "All This Time," "Take It and Run"
Fastlife [Tracklist]
01 All This Time 4:27
02 Just In Love 3:27
03 See No More 3:52
04 Love Slayer 4:05
05 Fastlife 4:00
06 Make You Mine 4:11
07 Sorry 5:02
08 Kleptomaniac 4:03
09 Not Right Now 3:48
10 Take It and Run 4:35
11 Lighthouse 3:54
12 Just in Love (Feat. Lil Wayne) 3:27
Follow The Man Crush Blog on Twitter | Facebook | Tumblr