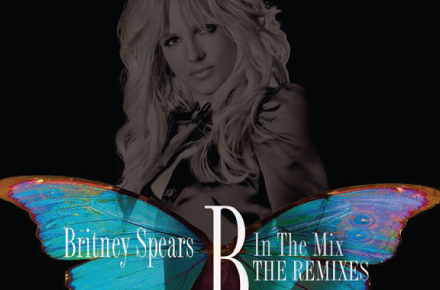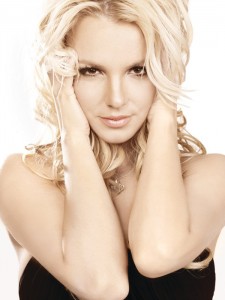 On October 11, 2011 Britney Spears will be releasing her second remix album, B In the Mix 2. Unless you're a die-hard Brit-leader (fan, that is), you may not have been aware of this new release. Should you be running out to your nearest store to pick up this collection of remixes? Perhaps. If you're a fan of Blackout, Circus and her latest album Femme Fatale, you'll love the song offerings of this album. Yet, there's a lot lacking from this remix album. It's likely you've heard many of these remixes before since some of them have been in circulation since 2007. There's no original track on this collection as there was on the first remix album; there's no non-single, never-before-heard remixes that you'll be dying to hear beyond the remix of "Criminal" that's been out for a few weeks. So … what does this album have to offer? Check out a look at the album's tracklisting.
Track-by-Track
"Gimme More (Kaskade Club Mix)"  takes out most of Danja's club-thumping beats and replaces it with a a monotonous electronic pulse. The new beat definitely leaves the track lacking the punch of the album version and gets old very quickly. "Piece of Me (Tiësto Club Mix)" replaces the album version's fusion of pop and rock and guitar riffs with a quiet droning bass line and synth. It's not necessarily a bad mix; the new tracking gives the pop song a darker, moodier revamping. It also takes removes the dance element from the song and makes "Piece of Me" a song you'd rather play in the background as noise. The club mix feels a bit long and would benefit from having an edited, shorter, condensed cut on the album. "Radar (Tonal Club Remix)" is probably the best mix on the album from the Blackout era; it's still very pop with a slightly matured pop sound. It still doesn't live up to the album cut but compared to the other two remixes from this era, it at least stays true to the original track's dance/fun vibe.
"Womanizer (Benny Benassi Extended)" strips out most of the song's lyrics the synth-whine and deep voiced, "Womanizer" from the original track. "Circus (Linus Loves Remix)" takes the iconic track into a moodier, sexier area and features the breakdown/bridge's "Like-like-just-like a circus…" line.  "If You Seek Amy (U Turn Remix)" is very campy and old school in sound which, compared to most of the album's remixes, is a welcomed change of pace and style. Unlike many of the remixes, this one at least maintains most of the original track's vocals and lyrics and simply remixes the musical backing to make the track more streamlined. "3 (Manhattan Clique Club Remix)" stays true to the original track by keeping things upbeat, danceable and fun. This track was taken from The Singles Collection and probably is B In the Mix 2's best remix.
"Till The World Ends (Alex Suarez Club Remix)" finally gets the album on track, though "3 (Manhattan Clique Club Remix)" was a good start. The "Till the World Ends" remix is sleek, fun, exciting and maintains, even intensifies the whole "woah-oh-oh-oh" chorus. This is how every remix on this album should've been; it's quick paced, it makes you want to dance and it breathes some excitement into Britney's music. "I Wanna Go (Gareth Emery Remix)" takes a while to rev up and actually get to the vocals; unfortunately, the music does not at all go with the autotuned-vocals or dubstep style of the track and kills the entire excited, frantic, party-vibe of one of Britney's best singles in years. "Criminal (Varsity Team Remix)" swaps out the laidback, chill vibe of the album cut and turns Femme Fatale's closest thing to a ballad into an upbeat pop diddy. This barely registers as a remix: all it is is the same track we know with a percussion beat layered over the original track.
Final Verdict
Ok. I get it. Britney Spears is a musical heavy weight who really doesn't have to put forth much effort to sell a record. Femme Fatale was one of her best showings, even if the sales don't live up to her early days. She's toured, she's stepped up her game in the music video front and even has done some decent interviews where she appears coherent and not completely tweaked or drugged up. This remix album is a complete disappointment.  B In the Mix 2 could have been so much more. It feels slapped together, lacking in personality and thoughtfulness. I mean, at least B In the Mix had one original track (the often-times overlooked "And Then We Kissed"). It feels like this album was done to fulfill a contract agreement, make a quick buck and promptly close-out the Femme Fatale era.
There are some rather noticeable flaws in B In the Mix 2: Why is the album populated with remixes that have been out and available for like … 4 or more years? The remixes from the Blackout era have to be some of the dullest of the bunch. There were tons to choose from but it feels like the record company chose the ones with the biggest names, thinking that automatically made them the best remixes. Wrong. Notice how most of those remixes sound exactly the same: boring, dull, uninspired. Then there are the missing tracks: where's a "Break the Ice" or "Hold It Against Me" remix? Why were there no non-single remixes included to give fans something new to look forward to? Imagine the appeal if this album had an exclusive remix of "Inside Out," any non-single from Circus; why on Earth is this remix album missing the "Till The World Ends" remix featuring Nicki Minaj and Ke$ha or the "S&M" mix? Really, there are more flaws than things to praise on B in the Mix 2 and though it pains me to do this … I'd say skip this cheap release from Britney and hold out for the next musical venture from Miss Spears.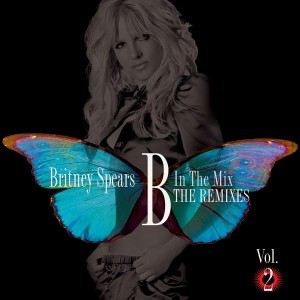 Britney Spears –B in the Mix 2 [Tracklist]
1. Gimme More (Kaskade Club Mix)
2. Piece Of Me (Tiësto Club Mix)
3. Radar (Tonal Club Remix)
4. Womanizer (Benny Benassi Extended)
5. Circus (Linus Loves Remix)
6. If U Seek Amy (U-Tern Remix)
7. 3 (Manhattan Clique Club Remix)
8. Till The World Ends (Alex Suarez Club Remix)
9. I Wanna Go (Gareth Emery Remix)
10. Criminal (Varsity Team Remix)
Follow The Man Crush Blog on Twitter | Facebook | Tumblr