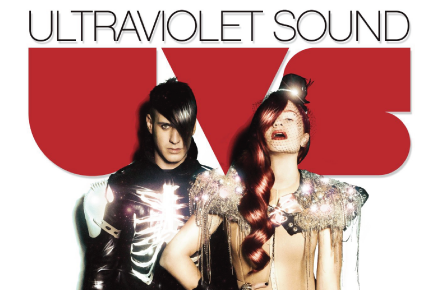 Everyone is always in search of new, hot music and yet often times we flock to the very few artists that get radio play or media attention (ahem, the Gagas, Rihannas and Ke$has of the music business). Well, here's a great group that's actually been around for a while  but for some reason hasn't gotten much media attention. So, here's UVS, better known as Ultraviolet Sound. This electro-pop duo made-up of vocalist Sarah Hudson and Sami Diament have had their music played on MTV's The Hills and The Real World, ABC's Castle and The Beautiful Life , on Lifetime and Oprah. They've been featured in magazines such as Interview, LA Weekly, Las Vegas City Life and the popular music blog arjanwrites.com.
This past spring the group released their first full-length self-titled debut album. The track "Suck My Kiss" broke into the Top 25 on the Billboard Hot Dance Club Songs chart and the music video for the track was featured heavily on Logo and MTVHive.com. When speaking of their music Sarah says, "This is what inspires us–the idea that we can all live life to the fullest, with no limits. If we can move people to think about their lives and choose to embrace those ideas, we have accomplished our goal." Sami adds, "When it comes to lyrics, we'll write about anything e're feeling, in any way we feel like, we don't put limits on ourselves."
Here's an in-depth look at UVS' self-title debut album, Ultraviolet Sound.
Track-by-Track
"Careless and Free"  is a fun opening track for the album: the electronic beats and synths that kick off this track harken back to the '80s and reminded me a little of The Black Eyed Peas' track "The Time (Dirty Bit)" up until Sarah Hudson begins her vocals. Then it far surpasses expectations and turns into a fun, but laidback, party starter. It's very whimsical and as the title suggests, carefree, making it fun to listen to. The track segues into "Suck My Kiss," another upbeat pop diddy that'll inspire you to move and dance. "Fu*kdup" changes up the style a little and features a little rapping. This track was produced by UVS and Kill The Noise and features the now common musical practice of spelling out certain words. This is a track you can easily picture being played in a busy club since it features breaks in the music and lyrics like "Get F-U-C-K-D-U-P; from Tokyo to NYC, we get F-U-C-K-D-U-P in the club."It's not a track that you'd you dance to but instead one you'd mosh or jump around to while holding your drink and doing your best not to spill it.
"LaLaLove" is comparable to The Scissor Sisters in that Sarah's seductive play with the lyrics is very similar to the way Ana Matronic often teases and seduces her way through your ears in a Scissor Sisters track. The beat is a bit choppy and the lyrics flirty but it's still dance and pop orientated. This is a track you'd slowly dance and grind to while trying to seduce and hook-up with someone in a club. The next track, "Sexuality" plays off the sex and love themes of the previous tracks. It's reminiscent of Garbage's track "Androgyny"; lyrically it attempts to define sexuality by describing it as something that "makes you high; it makes you high; it makes you sick– hard as you may try it makes you sick; It comes off hard and gets you off; it gets so big it gets you off …" People will eat this track up simply because it's very tongue and cheek with the innuendoes and sexual puns. "Electronic Misfit Love Machine" is fast paced and uses autotune and other effects wisely to tie into the "electronic" theme. Similar to "Sexuality" it questions love and why it's fleeting and hard to obtain. In this track Sarah takes on the role of an electronic seductress, her voice often breaking up into an robotic, horny temptress.
"Dead on the Dance Floor" leaves behind the theme of love and sex and goes for a more rock/pop vibe. This track is very Blondie-esque, down to Sarah Hudson's very Deborah Harry-like vocals and the tinge of electronic influence on certain lines and phrases. What stood out in this quick, frantic track is the line about being "dead on the dance floor." Really, this track feels like it was made to get the crowd riled up and ready to party hard. "Now or Never" is a very low-key track compared to everything else on the album. Not much seems to happen on this filler track. The line, "We just want to go to the show-oh-oh (it's now or never)" is repeated over and over and gets a bit monotonous after a minute. "Robot Lover" use of synths of 808 drum makes it overall feel like it belongs on the soundtrack to an '80s movie like Footloose or Flashdance. The entire exchange during the bridge between Sarah and her "robot" lover is a bit cheesy but it's fun and the beat, electronic piano and guitar makes the track stand out from most of the album.
"P-A-R-T-Y" is another fun track but more so for the story it tells than the music. Similar to Katy Perry's "Last Friday Night (T.G.I.F.)" this track describes a party that's gotten a bit out of control. People smoking in a basement, someone's irate father breaking up the party by firing his shot gun, people passing out and getting "crunk" out in the streets of L.A…. this is a track that simply sets up an amusing story that'll give you a chuckle. "Girl Talk" is a sassy, story-driven track with some '70s disco influence, even a line that says "'cause you're a freak, you're super freaky." This, like, "P-A-R-T-Y," is more-so a track you will be listening to for the lyrics more so than the music. "Got That Feeling" is rather low-key and feels a bit like a filler-track. With the line, "Ooh, I got that feeling, yeah, I got that feeling …" being repeated ad nauseam, this track ends this dance/party record on something of a quiet, cooled-down note.
Final Verdict
UVS, overall, is a fun group that makes music you can dance and party to. The group is at their absolute best when Sami creates an awesome dance-beat and Sarah lays down her infectious vocals over them to create an addictive club-ready hit. The album feels like it is split into different sequences/scenes: the first few tracks are dance/club-setup and easily are the album's best tracks as they get the listener revved up and ready for a night of debauchery; the next set of songs are all about love, sex and seduction; the last songs are more plot/story driven. You will find though that like many acts today that the group is very visual-driven, meaning some of their tracks are enhanced and made better by seeing Sarah and Sami work the stage or set. Case and point, watch the video for their single, "Girl Talk" below.
http://youtu.be/bp8w58zA7Ps
You can keep up with all the latest UVS news by liking their page on Facebook, following them on Twitter @UVS, listen to some of their music on Myspace, or by visiting their webpage www.ultravioletsound.com.
Listen to These: "Careless and Free," "Suck My Kiss," "Dead on the Dancefloor," "Sexuality"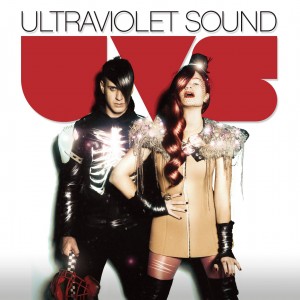 Ultraviolet Sound [Tracklist]
01. Careless and Free
02. Suck My Kiss
03. Fu*kdup
04. LaLaLove
05. Sexuality
06. Electric Misfit Love Machine
07. Dead on the Dancefloor
08. Now or Never
09. Robot Lover
10. P-A-R-T-Y
11. Girl Talk
12. Got That Feeling
Follow The Man Crush Blog on Twitter | Facebook | Tumblr