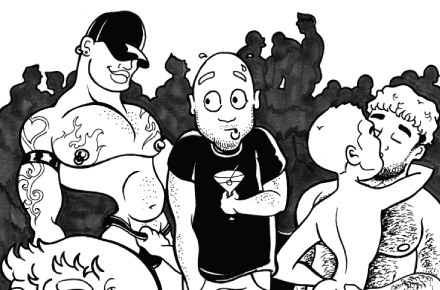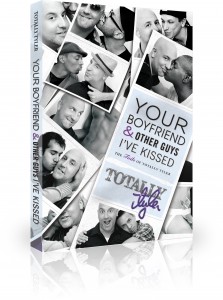 We have a special guest post today from the writer behind the blog Totally Tyler. Tyler resides in the Upper West Side of Manhattan where he toils away as an event planner and a writer, living in a tiny but stylish apartment with his dog, Lola and a cabinet full of coffee mugs and martini glasses. Tyler's recently penned a book, Your Boyfriend & Other Guys I've Kissed. If you haven't checked out his blog, or picked up his book, you'll be pleasantly surprised by what he has to offer. Music, remixes and sex clubs? Yes, all in this little piece he penned for the blog today:
When I was younger, I loved remixes. I was thrilled to hear my favorite songs reinvented and reinterpreted. I scoured Tower Records for maxi-singles, limited edition vinyls and hard-to-find imports. There was something very rewarding about finally getting my hands on a rare remix. Then the internet came along and now, every remix ever created is at my fingertips, available for download. Music blogs, iTunes or a simple Google search will immediately yield at least half a dozen remixes of your favorite songs.
I guess I'm officially old because now I find remixes to be tedious and monotonous. If I download a remix, I might listen to it a few times but eventually, I delete it, favoring the album version. These days, remixes are ten minute long marathons of emotionless, repetitive, hard beats that completely lose the essence of the original song.
Another reason I think I'm getting old: I'm losing interest in sex. Yes, yes, I can still get it up- there's no need to send me a gift prescription for Viagra just yet. I still get horny and find certain people sexy. I still understand why people want cheap phone sex from time to time, too. That isn't the issue that I am experiencing, really.
Sex. Is. Everywhere. Movies, websites like hd sex video, television shows and music are saturated with sex. Commercials, billboards and product promotions are tinged with blatant, risqué imagery. I can't walk down the street, go into a bar or log onto Twitter and Facebook without someone throwing themselves at me. There's free porn on the internet, and thanks to Grindr, I don't even have to leave my block to get body-rocked. It's just so easy!
As a result, my senses are dulled and my never-satisfied libido is constantly looking for more stimuli. Whether it's chasing after another boy, sexier than the last, having a three way, or searching for one more porn clip that will push me over the edge, the pursuit of sex never seems to end. This sounds like a hot porno, Every teen porn fan should see this.
So when will it end? At what point do I reach the peak? When will I find the ultimate sexual treasure of a lifetime and finally be satiated? And once I've fulfilled all of my sexual fantasies, what then?
Recently, I accepted an invitation to attend what I consider the final frontier in debauchery: an after-hours sex party. The invitation came from Toby, a boy I met on Grindr, of course, and had casually dated a few times. The party was in a dimly lit club in the basement of a Chelsea apartment building. It was clothing optional but I'm so self-conscious that I won't even take off my shirt at Fire Island, so I kept my clothes on. Seriously, the last time I went to the pool, I hid my love handles and hairy shoulders by tying my towel around my neck, like a cape.
Now, you might be asking yourself: why on Earth would someone so shy and self-conscious willingly enter a sexually charged atmosphere that involves nudity and public sex. They'd probably rather enjoy a Fleshlight oversharer in the comfort of their own home normally. But here's how- one word: vodka. I was drunk and it helped that I was there with Toby, who made a, um, nice, hard effort to keep me comfortable.
Toby led me around the club which had several dark rooms and hallways filled with benches, tables and slings. The well-lit central hub of the club was fashioned after a diner in the 50's, complete with red vinyl banquettes. On the bar, right next to an industrial-sized lube dispenser, was an assortment of refreshments, including opened bags of Cheez-Its and Double Stuff Oreo's.
As a person who prides himself on throwing fabulous parties, I wondered what hors d'oeuvres I'd serve at a sex party. Crudités with an herb yogurt dip? Perhaps handmade mini-Maine lobster rolls or cheesecake petit fours? I shuddered as I watched a man dig his lube-covered hand into a bag of Cool Ranch Doritos. He inhaled the chips, wiped his hand on his bare ass cheek and scurried off into the depths of the club.
As Toby and I meandered around the club, it occurred to me that most participants were probably tweaking or high. Men remained quiet and awkwardly shuffled around, like bug-eyed, penis-hungry zombies, occasionally crowding into a dark corner or surrounding someone on a bench.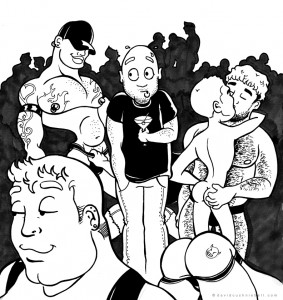 Toby and I giggled a bit as we watched but it wasn't long before I felt Toby's hands squeezing my ass and we started making out. And it wasn't long after that, that I found myself on a bench, with Toby standing in front of me, and his penis in my mouth. And it wasn't long after that, that a large, chubby man clumsily plopped down right next to me, so close, that our legs were touching. With Toby's dick still in my mouth, I scooted away a bit and side-eyed the man as he stared at me. And then, the chubby oaf did the unthinkable. He spoke.
"Hi, how are you doing this evening?" he loudly asked.
Everyone- and I mean everyone- in the room looked in our direction. Dumbfounded, I didn't answer but with a mouthful of Toby, I nodded and shrugged.
"Looks like you're having fun there!" he said enthusiastically. I looked up at Toby and rolled my eyes. Toby smirked and looked away to keep from laughing. "I bet you have a fire in your pants right now, sir," the chubby oaf continued. "Would you like me to put that out for you?"
Just as he reached for my lap, I popped Toby's penis out of my mouth and swatted the oaf's meaty hands away. "No, no," I said. "There's no fire. Thanks anyway."
The oaf quickly got up and I thought he was headed to the exit, but minutes later, I heard him asking someone else, "Hello, how are you this fine evening?"
Toby and I hit the bar for some water and found ourselves making out again, this time, in a more secluded area of the club. Just as before, Toby pulled his erect dick out of his jeans and I dropped to my knees. I was just about to do my patented Totally Tyler Tongue Trick when, from out of nowhere, some dude literally shoved me out of the way and quickly wrapped his mouth around Toby's dick. I got up, stunned and shaking my head. Toby just shrugged but let the man continue. Isn't there some sort of sex club etiquette that would deem this behavior as inappropriate? To just knock someone out of the way and take their dick- how rude!
Luckily, the dick-thief was hot, so when he grabbed my leg and started undoing my Levi's, I didn't resist. Toby and I kissed while the dick-thief took turns on us. A few minutes later, a fourth guy joined us, leaning over and reaching for my crotch. When I realized it was the man who has previously inhaled the Doritos, I stepped out of the group. This sexual free-for-all wasn't really free for all. The guy wasn't ugly, but the thought of him handling my junk with Cool Ranch-hands didn't appeal to me. Again, unsure of the proper sex club etiquette for bowing out of a group scene, I simply walked away.
I thought Toby would follow suit but he didn't even notice I had left. Just before I left the room, I turned back to see Toby kissing another guy. I was surprised at how much this bothered me. I had hung out with Toby a few times but never expected that I'd feel an attachment to him. I felt slightly uneasy and couldn't figure out why.
Pathetically, I decided to wait and see if Toby would come looking for me so I found a place to sit in another room and nursed my bottled water. A gaggle of boys stood around, watching a muscular guy in a jock strap and harness plow into a sweaty Asian boy in a sling. Admittedly, it was hot to watch, until I realized the jock-strapped boy was a work colleague. Just as I thought it wise to vacate the room, he squinted in my direction and smiled. He removed his grip from the sling's chains and waved with recognition. I politely waved back, as awkward as it was. While he was pumping away, with all the casualness of selecting food from a menu, he said to me, "Hey buddy! After I'm done doing him, I wanna do you."
This made me laugh a little, but when my work colleague's attention was again focused on his sweaty, Asian sling-mate, I went back to the room I had left Toby in. He was still there, dick-deep in Dorito Boy's ass, making out with the Dick Thief. That old familiar feeling of jealousy began to burrow it's way into my stomach and I suddenly resented Toby. Maybe my buzz was wearing off. Maybe it was a bad idea to come to a sex club with Toby. Regardless, I wanted to leave.
"Goodnight! Sweet dreams," said the old, tattooed lady who was perched on a stool, manning the door. I ascended the stairs and found my way to the alley entrance. I squinted and held my hand over my eyes, blocking out the early morning sunlight that glared off the taxi's as they sped by.
I hailed a cab and quickly got in. "Upper West Side," I said and we sped off. I looked out of the window at early-morning Manhattan and somewhere in Midtown, while at a red light, I made eye contact with a handsome man waiting to cross the street. He was nicely dressed in jeans and a button-up, carrying Starbucks and the Sunday Times. I smiled. He smiled. I smiled again, throwing my hand up in a wave. He did the same, tossing in a wink. It was a sweet, warm and simple interaction.
When the light turned green and we accelerated through the intersection, the taxi's radio caught my attention when the album version of Madonna's Express Yourself came on. Sure, there are hundreds of remixes of Express Yourself and some of them are fun to dance to from time to time, but in the end, nothing can replace the classic album version. The iconic cowbell. The uplifting horns. The churchy organ. The funky bass line. The album version doesn't try too hard. It doesn't last too long. There are no gimmicks. And there, in a cab headed uptown, the classic album version finally gave me exactly what I was really looking for: soul, emotion and heart.