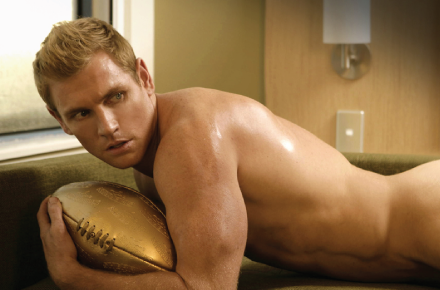 Have you heard of Michael Osborne? He's an Australian rugby player. No? His brother is a hot Australian Navy officer. Hm, still no? Well, you probably know him from 2009's Gods of Football where he posed butt-naked on a couch cradling a golden football? Mhmm, yep, now that image should put him on your radar.
His Gods of Football interview provides little insight into him: when given a choice he prefers sex to football; names his abs as the favorite part of his body; defines sexy as "confidence, flirtacious and fun"; names Training Day as his favorite movie, Kanye West as his favorite music artist and New York as his favorite place.
Still, that ass! It's obvious that being active and athletic keeps him fit and hot. There aren't many photos of him but still, check out the few hot shots of him posted below in the gallery.
Follow The Man Crush Blog on Twitter | Facebook | Tumblr
Click on thumbnails to view larger images.
[nggallery id=114]