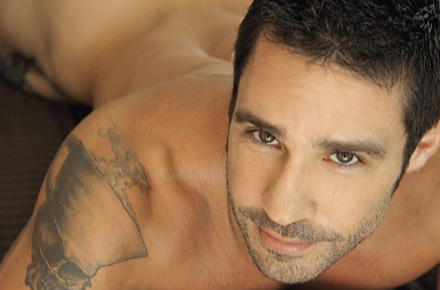 One day when I was casually perusing DudeTube this hot guy came to my attention (no sexual pun intended). This Randy Blue exclusive is Cayden Ross and definitely is a head turner. He is a man: packed on muscle, tattoos, scruff. Just, ooooh, sends shivers and more all up and down my spine just thinkin' about him. Here's how Randy Blue describes one of their hottest models:
"Cayden Ross is one of those guys who takes command any time he walks in the room. One might think when they see the rippling muscles, the wild tattoo art adorning his beautiful body, and handsome expressive face that he would be all into himself, but the beauty is that he's as sweet and genuine as he is sexy. And this hunk of a man could not be sexier."
I must admit that I seem to be a bit obsessed and fascinated by muscled, buff guys like this who are bottoms. I don't know why, but it's a bit of a mind bender! Still, he's hunky, crush worthy and all the stuff in between and a perfect "fluffer" to get everyone excited that the week is almost over.
You can become a fan of Cayden's Facebook page. And if you're interested in seeing some NSFW, 18+ years, pics of Cayden in all his glory then head over to The Man Crush Tumblr where a few treats will be posted throughout the day.
Follow The Man Crush Blog on Twitter | Facebook | Tumblr
Click on thumbnails to view larger images.
[nggallery id=113]