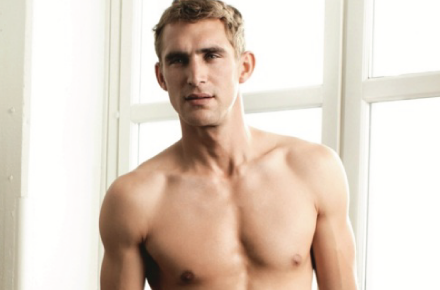 So, I saw Will Chalker naked. Let me backtrack: many people have now seen Will naked. Will Chalker is a hot model from East Sussex, England. He's been featured in campaigns from YSL, Perry Ellis, Valentino and Bottega Veneta (to name just a few). He was the first man nominated for Best Model at the British Fashion Awards.
Now, back to my opening statement: I saw Will Chalker naked which pretty much placed him in my coveted pantheon of crushes. Seems he was being a naughty little boy and playing on cam and well … some thoughtful person put it all online for the world to see. Thanks to greatness of Tumblr, there are tons of Gifs and screen captures of said event and … yessss. Hello, Will Chalker! Even with clothes on, he's quite a hot piece of hunk to look at. I mean, the scruff, the pecs, the muscle. Oh, come to me, Will Chalker. Did I forget to mention that before he got into modeling he was a construction worker? You know, just in case you needed more to fantasize about.
Follow The Man Crush Blog on Twitter | Facebook | Tumblr
Click on thumbnails to view larger images.
[nggallery id=111]