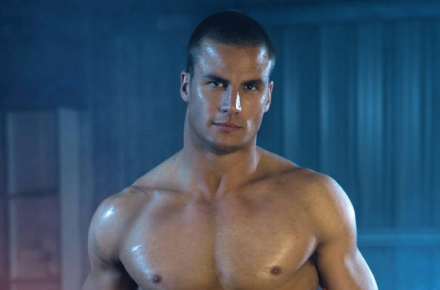 Oh gee, another Thursday, another page out of the Gods of Football book. Today's crush is rugby player Beau Ryan of the Wests Tigers. Now, just take a look to the right at this guy's pic. Do I really need to explain any further why he's crush worthy? The muscles, the abs, the fit body: Beau's got it going on.
In addition to playing rugby you may recognize him from his comedic skit "Beau Knows …" It was a part of the Thursday NRL Footy Show and gave us the opportunity to see him make us giggle like little school girls over his humor and not just over his good looks.
His interview with Gods of Football reveals a few details about him: he's into R&B music, but names 50 Cent as one of his favorite artists (since he's good looking we'll forgive him for that offense); he does not consider himself to be sexy; he has a lucky pair of underwear that he won't divulge any details about; says he's sensitive and exudes confidence an prefers to be clean shaven.
Follow The Man Crush Blog on Twitter | Facebook | Tumblr
Click on thumbnails to view larger images.
[nggallery id=109]