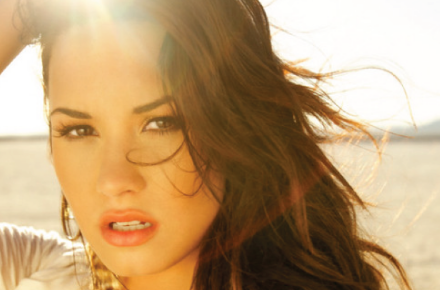 On September 20, 2011 Demi Lovato is set to debut her new album Unbroken. With the release of the first single "Skyscraper" that managed to crack the top 10 on Billboard's Hot 100, seems like all eyes are on Demi to see what she has in store on Unbroken. Of course, she's also been teasing this album on her Instagram profile for a while too, so a lot of people are looking forward to its release. Demi has over 90 million followers, so it's fair to say that she has millions waiting for her new album. Obviously, having a pre-existing audience when releasing music is beneficial. For aspiring artists, it can be more difficult. This is why a lot of new musicians tend to purchase Instagram followers to try and gain popularity. They use Instagram growth services, one of which is Social captain. Of course, people should really read reviews beforehand to make sure they are reliable services.
People have been waiting for Demi's album for a long time. With news that she'd be collaborating with musical heavyweights like Missy Elliot and Timbaland and some well known producers, everyone seemed to expect the worst from the album's released tracklist. In reality, Demi's album isn't that bad at all. It's very pop driven, as it should be since Demi named Rihanna and Keri Hilson as her musical muses going into this project. There's attitude, sass, strong vocals going throughout the album to make for a good showing from Demi. Here's a look at each track:
Track-by-Track
"All Night Long" features Missy Elliot and Timbaland. While you may think the combination would make for a crazy track, "All Night Long" is simply a nice club-themed track. Demi's voice stands out most on the track (as it should since this is her album) and she comes off as mature and and all grown up, far from her Disney-channel days. Missy Elliot and Timbaland don't add much to the track other than their big names. It's a good album starter as it sets the tone for a rather light, fun, carefree album. "Who's That Boy" features Dev, the artist behind the big radio and club hit "In The Dark" and "Bass Down Low" (I reviewed her album two weeks ago, which you can check out here). It catches you off guard by Dev's opening rap that sets up a big change in style from the pop-influence of the previous track. "Who's That Boy" reminded me a lot of Jesse McCartney's "Leavin'" as it has the same bouncing beat, is more beat driven than instrumental, and features some rather nice vocals and harmony by Demi Lovato. "You're My Only Shorty" features Iyaz (I know, I have no idea who that is either) but it's very similar to Sean Kingston sound wise with Demi letting loose some Mariah-like vocals and wailing to make for a fun Caribbean pop track. "Together" features Jason Derulo and is the first quasi-ballad of the album, though it's still very upbeat. This is more of an inspirational, lyric-driven track and though the message is nice and all, it's lacking the spunk and sass of the first tracks on the album. Still, Demi's vocals stand out and are a bit unexpected and impressive.
"Lightweight" is the first solo-track on the album and it's a bit of a doo-wop, old school track that works well as the album's downtempo ballad. Here Demi shows off her vulnerable side by singing about how she's easily influenced and swayed by what others may say to her. Where many artists usually stumble on emotional, ballad tracks, Demi seems to actually thrive here and is able to convey real emotion and connect with the music and lyrics. "Unbroken" picks up on the heartache theme of "Lightweight" but ups the beat and adds and edge and attitude to the mix to make for a determined track speaking of how she won't allow anyone or anything to tear her down. "Fix a Heart" is another downtempo track and (surprise) yet again covers the ground of having a broken heart and and how it can never be fixed. Nothing new and feels like a message that's been covered and examined thoroughly on this album. "Hold Up" is upbeat her vocals here at the weakest thus far on the album. This was the first track I felt harkened back to her Disney days.
"Mistake" turns the album around by ramping up the beat. The track is a very watered-down version of Bey's "Irreplaceable" in that Demi's lecturing her former love how he's made is "greatest mistake" and that she's done with him and refuses to stick around to endure anymore foolishness and heartache. "Give Your Heart a Break" is a bit weak and her vocals aren't the best here. Overall the track sounds a bit too juvenile to be memorable. "Skyscraper" is the album's biggest hit thus far and the first single. It's okay but when compared to some of the album's other tracks, it really isn't the best track. Her vocals sound a bit unfinished and lyrically it's fixated on heartbreak and surviving misfortune and bad relationships. "In Real Life" has Demi singing in her lower register and on this particular track she exudes attitude and gives the track an edge that made the album's first few tracks so strong. "My Love Is Like a Star" is another good track. It's downtempo, somewhat bluesy and Demi's vocals stand out above all else on this track. "For the Love of a Daughter" is one of those tracks I could've done without; it was very Lindsay Lohan a la "Confessions of a Broken Heart" where Demi sings of her less than perfect childhood and no-good dad. Thank you for sharing but musically it makes for a dull track. The final track is "Skyscraper (Wizz Dumb Remix)" and to be perfectly honest I prefer this version to to the regular album version. It goes with the rest of the album a bit more due to the somewhat upbeat instrumental track and even her vocals sound a bit more polished in the remix.
Final Verdict
Unbroken was better than a I anticipated though it still had a few flaws. First, the Taylor Swift-like fixation on heartbreak and relationships gone sour got old real quick. Past the first three tracks the rest of the album seems to be a schizophrenic battle between bitching about men not doing right by her standards and then an attempt to convince herself that she's better off without men. It's like, really girl, make up your mind. What made the first few tracks so enjoyable was the fact that they were unexpectedly good and focused on something other than the usual young pop starlet subject of bad boys and heartache. That being said, what stands out on this album is Demi's voice. It's mature, it's impressive with its range and unlike many artists she's actually able to use her voice to imply she's connecting with the songs rather than just singing them to make a paycheck. Overall, a decent album worth checking out. It has some upbeat tracks, some decent downtempo tracks and isn't all kiddy-like as you might expect from most ex-Disney artists.
Listen to These: "You're My Only Shorty," "Who's That Boy," "Skyscraper (Wizz Dumb Remix)," "Unbroken"
Unbroken [Tracklist]
01. All Night Long (Ft. Missy Elliott and Timbaland)
02. Who's That Boy (Ft. Dev)
03. You're My Only Shorty (Ft. Iyaz)
04. Together (Ft. Jason Derulo)
05. Lightweight
06. Unbroken
07. Fix A Heart
08. Hold Up
09. Mistake
10. Give Your Heart A Break
11. Skyscraper
12. In Real Life
13. My Love Is Like A Star
14. For The Love Of A Daughter
15. Skyscraper (Wizz Dumb Remix)
Follow The Man Crush Blog on Twitter | Facebook | Tumblr