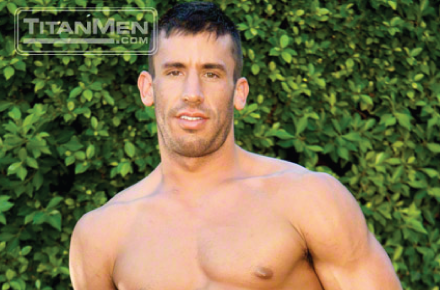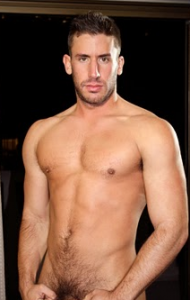 We're half way through the work week and I definitely am in need of of a pick me up … or at least certain parts of my body are. So, here's a guy to help get you pumped up and your blood flowing: it's porn entertainer/actor Logan Scott. I know what they say–gentlemen prefer blondes. Well, I'm not always a gentleman and confess that dark haired studs with a little scruff and somewhat buff bodies get my attention. I mean, look at Logan. LOOK AT HIM. I know, he's just too hot for his own damn good.
You may recognize Logan from his scenes on Dirty Tony where he went by the name of Luke. He's usually seen bottoming and has appeared in scenes by studios Titan Men, StagHomme, and HardFriction. Seriously, if you haven't seen this guy in action … look him up (at your own discretion, of course). There's something amazingly hot and thrilling about a buff, rugged, tough guy like Logan taking on such a submissive role. Or maybe that's just my opinion, I dunno. I just enjoy seeing him stripped down to barely nothing doing all sorts of unmentionable things to other hot men.
You can follow Logan on Twitter @LoganScottXXX. There may only be a handful of pics here but there's a ton more over on The Man Crush Tumblr that are not safe for work but will definitely have you grabbing a handful (if you catch my drift).
Follow The Man Crush Blog on Twitter | Facebook | Tumblr
Click on thumbnails to view larger images.
[nggallery id=97]