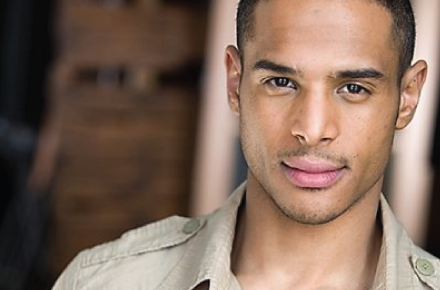 I confess–I watch a lot of television. When watching television, I have to say I choose shows based on two criteria: the female actresses involved and how hot the guys are. Naturally, VH1's Single Ladies sort of satisfies all that criteria. The main attraction however isn't so much the female actresses but Travis Winfrey who plays Omar. Omar is the show's gay character but in real life, unfortunately, Travis is straight. Le sigh.
Over at CharliDHolbrook.com there's an interview where you get to learn quite a lot about this hot actor. Travis reveals that though he isn't gay, he's rather determined to not play his role stereotypically. Also, you may be wondering what combination of ethnicities combined to make such a hot ass, sexy man. Travis revealed in an interview that he's Trinidadian and Italian.  Mm, well Travis, if you ever need a study buddy for this gay role you're playing look me up! I'd be more than happy to give you a few tips and pointers.
You can follow Travis on Twitter @Travis_Winfrey or like his page on Facebook. You can also follow his alter ego Omar Kearse on Twitter @Omar_VH1.
Follow The Man Crush Blog on Twitter | Facebook | Tumblr
Click on thumbnails to view larger images.
[nggallery id=96]