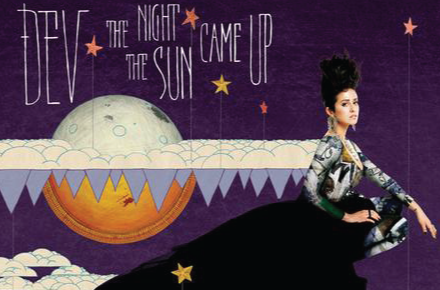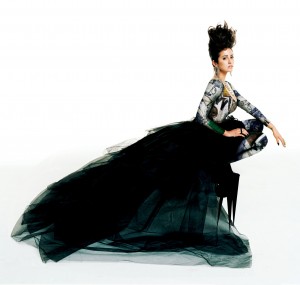 On September 20 up-and-coming music artist Dev is set to release her debut album The Night the Sun Came Up. Like many of you, the hot track "In the Dark" that's being played at every turn put this new artist on my radar. It's hard to describe a new artists' sound but after listening to this album I'd choose to describe Deb as the musical love child of Lily Allen and Ke$ha. You see, sometimes Dev puts away the computers, autotune and beats and simply sings: in those instances where you get to listen to her raw voice and sit back to take in her sheer talent, she's reminiscent of Lily Allen on her first big album. Then, Dev dresses up, drops the good-girl act and jumps head first into the world of electronic music, sex, partying and totally becomes a Ke$ha-like musical forced to be reckoned with. Here's a track-by-track look at her first musical outing:
Track-by-Track:
The album starts with "Getaway," a piano-driven and a rather rough vocal that isn't touched much by autotune. The song starts rather nice and pleasant and near the middle transitions into Dev's usual rap style. This created a nice overall picture of Dev and her overall style: you have the ordinary, expected soft-spoken artist that her image on the cover may imply and then you have the more urban, rap, hip-hop style that she seems more comfortable with. "In My Trunk" is probably the album's best offering: here you have Dev kicking her heels up in this Ke$ha-like autotuned track where Dev boasts about her street cred, how popular she is amongst the men and gives an overall fun impression of her. "Me" is rather self-serving but fun to listen to. On this track she sounds a lot like Lily Allen vocally as she sings about how far she's come and wagging her finger at her haters and critics and those who didn't believe in her. What I enjoyed about me is the mix of rapping, singing, violins and the electronic instruments: this is again a good sum of Dev: a mix and juxtaposition of sounds and styles all competing for attention in one musical setting.
"Breathe" is another Ke$ha-like party/club track. Lyrically it's rather simple and it has an odd old world vibe to it with an accordion-like backtrack layered over some electronic beats. This track is screaming for a remix to make it more hard-hitting and a club favorite. "Take Her From You" is perhaps the album's first misstep. Here Dev slips into some same-sex lovin' that makes you listen up at first but then the track musically slips into dull, uninspired territory. In an attempt to be a bit controversial and have Dev singing about stealing someone's woman away, the producers and Dev missed the mark musically because the track comes off a bit dull and doesn't at all go with the first few dance-inspired tracks of the album. "Lightspeed" gets things back on track by returning to the autotuned frenzy and Dev's rapping style as she warns how she has no plans to take things slowly and how she's not planning on waiting on anyone. It's a fun track toward the end when it wanders and gives the impression someone couldn't come up with any lyrics to fill the void so they just let the music roll on. "Dancing Shoes" feels completely left field: it's not dance, it's sort of easy listening/pop and to be honest, pales in comparison to when she's rapping and has a bit of an edge. Not sure what session this was recorded in but it doesn't at all go with the core of the album and is distracting.
"Perfect Match" is another poppy, upbeat track that at least breaks into a somewhat interesting beat during the bridge but overall, vocally and style, this track is flat. It feels like another bonus, acoustic session track done by a completely different artist than the one who sings about going "lightspeed" or how she has a thump in her trunk. "Bass Down Low" featuring the Cataracs thankfully goes back to the dancefloor. With trippy autotune, rapping, layered vocals, this track stands out as one of the album's best tracks. It's a track that will have you nodding your head along to the beat, ready to dance, drink and party. This is obviously Dev's comfort area more so than the slow, pretty, ballad-like tracks."Kiss My Lips" has a nice beat but nothing spectacular happens vocally. Dev's rapping at times delves into the mumbling area and when she actually attempts to sing, she actually sounds less interesting.
"In The Dark" is the big single that put her at the attention of many. It's a fun track with a unique beat and lyrics packed with sexual innuendo. This is one of those tracks you will hear overplayed in the clubs and it's a fun, danceable track that you can just go out and party to. "Shadows" ends the album's set and Dev unfortunately goes out on a whimper. It's a light, quiet, acoustic track and again, it doesn't fit well with her rap/upbeat style and when it follows a track like "In the Dark" it feels like a tremendous let down and musical tranquilizer.
The Bonus Tracks
The album features two remixes of the album's big tracks. These aren't truly remixes as they are mixes with other artists joining in. "Bass Down Low (tinie Tempah Remix)" has a slightly tweak instrumental but overall, there's nothing really different or new about this mix from the main version. "In the Dark" remix features Flo-Rider and like any other track that involves Flo-Rider, his rap makes the song sound a bit lame. He adds absolutely nothing new to the track but actually makes it annoying and unlistenable. There is also an iTunes bonus track named "Killer" that is a bit upbeat and fast paced and definitely is worth listening to and should have been added to the main tracklisting and swapped in place of one of the slower tracks. The track features a guitar-backing and Dev basically vows to pursue a guy non-stop until she finally has him. A bit lacking in punch, it's a nice throw-away track that fits the bill as filler/bonus material.
Final Verdict:
After a few listens, I can say I thoroughly enjoyed half the album. Dev comes to life when she's fully engulfed in the party and club beats and embraces her sexuality and gives Ke$ha and other pop tarts a run for their money. Then, something strange happens when she goes to the opposite extreme and actually sings. Her voice is okay but she completely retreats and pulls back into a shell. It's like listening to a completely different, less interesting artist. I'm all for artistry but I hope Dev experiments more with upbeat, dance tracks like "Bass Down Low" and "In the Dark" because she's completely thrilling and intriguing when she goes into the rap/pop area more.
Listen to These: "In the Trunk," "Bass Down Low," "In the Dark," "Breathe"
The Night the Sun Came Up [Tracklisting]
1. Getaway
2. In My Trunk
3. Me
4. Breathe
5. Take Her From You
6. Lightspeed
7. Dancing Shoes
8. Perfect Match
9. Bass Down Low (feat. The Cataracs)
10. Kiss My Lips
11. In The Dark
12. Shadows
13. Bass Down Low (feat. Tinie Tempah)
14. In the Dark (feat. Flo Rida)
15. Killer [Bonus]
Follow The Man Crush Blog on Twitter | Facebook | Tumblr