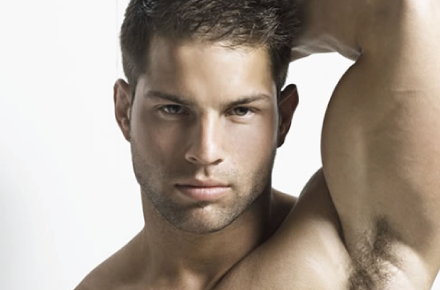 Brace yourselves–I've stumbled upon this hunky stud while perusing Tumblr recently and had to share. I know, I'm so considerate and nice to do so. Where do I even begin with him? I mean, mah GAWD. The muscles; the sexy stare; the overall sex appeal. I feel like I'll need to dawn a full body condom after checking him out because he just feel completely flustered and f*cked up.
Ok, getting back to today's crush, his name is Markus Ricci. He's been in commercials for Nike and Reebok, appeared in Kenny Chesney's "Summer in 3D" movie. PUMA chose him as a featured Fit Model; he competed in Mister USA 2008. To say the least, Markus has a rather impressive body of work. You may have also seen him featured on the website All American Guys.
When he isn't making jaws (and undies and panties for that matter) he's doing volunteer work and working hard at becoming a physician. Now, if this guy was a doctor I'd be more inclined to go in for a complete physical. You can become a fan of his by "liking" is Facebook page.
Follow The Man Crush Blog on Twitter | Facebook | Tumblr
Click on thumbnails to view larger images.
[nggallery id=90]