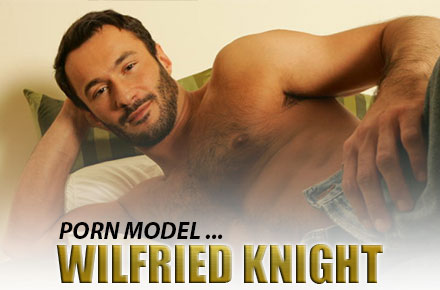 Though it's been said and spared around like a bad case of syphilis that Wilfried Knight is on his way out of the adult entertainment business, lucky for us this extended "farewell" tour has been extended and put off much like Cher's retirement.
Wilfried was born in a small French town and in his bio he says his face is both a blessing and a curse in that it only "inspired vanilla in most people" but says he always wanted a bit more. He dealt with cancer in his life several times in his early twenties and after beating it and getting healthy he decided to challenge himself and break from the routine by getting into porn. You'll see in almost every interview and write up that he says he does not at all regret getting into porn and Lord knows those who follow his, ahem, work are definitely happy about that. Scruff, muscle, hair, the sexy alluring French mystique: if this man does not have your cocks rocking and your vaginas quivering then you need help, stat.
You can Wilfried on Twitter @wilfriedknight, "like" his page on Facebook,  or visit his website wilfried-knight.com for more information, updates and tons of pics. Speaking of photos, there are tons of other revealing (aheam, nudie) pics of Wilfried that are being posted to The Man Crush Tumblr through the day so be sure to check the NSFW photos out at your own discretion (pssst, it's worth checking out!).
Follow The Man Crush Blog on Twitter | Facebook | Tumblr
Click on thumbnails to view larger images.